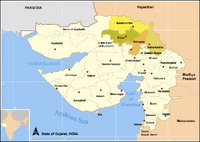 Sabarkantha is a district in Northeast of Gujarat state of India.
The administrative headquarters of the district is Himmatnagar, about 80 km from Ahmedabad.
Sabarkantha District is bounded by Rajasthan state to the northeast, Banaskantha and Mehsana districts to the west, Gandhinagar and Kheda districts to the south and Panchmahal District to the east.
In 2006 the Ministry of Panchayati Raj named Sabarkantha one of the country's 250 most backward districts (out of a total of 640).[1] It is one of the six districts in Gujarat currently receiving funds from the Backward Regions Grant Fund Programme (BRGF).[1]
The major towns in Sabarkantha are:
According to the 2011 census Sabarkantha district has a population of 2,427,346 ,[2] roughly equal to the nation of Kuwait[3] or the US state of New Mexico.[4] This gives it a ranking of 183rd in India (out of a total of 640).[2] The district has a population density of 328 inhabitants per square kilometre (850 /sq mi) .[2] Its population growth rate over the decade 2001-2011 was 16.56 %.[2] Sabarkantha has a sex ratio of 950 females for every 1000 males,[2] and a literacy rate of 76.6 %.[2]
Umashankar Joshi (1911-1988) Writer and scholar. Born in Bamna.
Coordinates: 23°36′N 72°57′E / 23.6, 72.95
Community content is available under
CC-BY-SA
unless otherwise noted.