Articles, images

Archaeology • Landmarks • Migrations and settlements • Photo gallery • Prehistory • Timeline

People

Births • Deaths • Baptisms • Marriages  • Divorces  • Burials • Families • Residents

Daily life

Before 1401 • 1401-1450 • 1451-1500 • 1501-1550 • 1551-1600 • 1601-1650 • 1651-1700 • 1701-1750 • 1751-1800 • 1801-1850 • 1851-1900 •
1901-1950 • 1951-2000 • 2001-present

Research,
including
queries

Sabarkantha district links  • Birth records • Businesses • Cemeteries • Census data • Church records •
Court records • Death records • Directories • Landowner records • Marriage records • Maps •
Military records • Obituaries • Probate records • Queries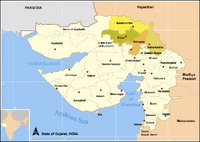 Sabarkantha is a district in Northeast of Gujarat

state of India

.
Geography and political facts
The administrative headquarters of the district

is Himmatnagar

, about 80 km from Ahmedabad

. Sabarkantha District has a population of 2,082,531 of which 10.81% were urban as of 2001. [1] It covers an area of 7,390 km².
Sabarkantha District is bounded by Rajasthan

state to the northeast, Banaskantha

and Mehsana

districts to the west, Gandhinagar

and Kheda

districts to the south and Panchmahal District

to the east.
Towns
The major towns in Sabarkantha are:
| | |
| --- | --- |
| | This article about a location in the Indian state of Gujarat is a stub. You can help by expanding it. |