m

 

m (Update from wikipedia)

 

(2 intermediate revisions by one other user not shown)
Line 1:
Line 1:
−
 
 

{{Navbox county-india}}<!--copy this line to other articles for this county! -->

 

{{Navbox county-india}}<!--copy this line to other articles for this county! -->

−

{{Perspective-Place article}} <!--delete this warning if the article has reached minimal family history standards -->[[Image:Map GujDist North.png|thumb|200px|right|Districts of Northern Gujarat]]

+

{{Perspective-Place article}} <!--delete this warning if the article has reached minimal family history standards -->

 
+

[[File:Himatnagar Public Library and Towerclock.jpg|thumb|right|[[Himatnagar]] Public Library]]

 
+

[[Image:Map GujDist North.png|thumb|200px|right|Districts of Northern Gujarat]]

 
 
−

'''Sabarkantha''' is a district in Northeast of {{wp|Gujarat}} state of {{wp|India}}.

+

'''Sabarkantha''' is a district in Northeast of Gujarat state of India.

 
 
−

==Geography and political facts==

+

==Geography==

−

The administrative headquarters of the {{wp|district}} is {{wp|Himmatnagar}}, about 80 km from {{wp|Ahmedabad}}. Sabarkantha District has a population of 2,082,531 of which 10.81% were urban as of 2001. [http://www.censusindiamaps.net/page/India_WhizMap/IndiaMap.htm] It covers an area of 7,390 km&sup2;.

+

The administrative headquarters of the district is Himmatnagar, about 80 km from Ahmedabad.

 
 
−

Sabarkantha District is bounded by {{wp|Rajasthan}} state to the northeast, {{wp|Banaskantha}} and {{wp|Mehsana}} districts to the west, {{wp|Gandhinagar District|Gandhinagar}} and {{wp|Kheda}} districts to the south and {{wp|Panchmahal District}} to the east.

+

Sabarkantha District is bounded by Rajasthan state to the northeast, Banaskantha and Mehsana districts to the west, Gandhinagar District|Gandhinagar and Kheda districts to the south and Panchmahal District to the east.

 
 
−

==Towns==

+

====

 
+

In 2006 the [[Ministry of Panchayati Raj]] named Sabarkantha one of the country's 250 [[Poverty in India | most backward districts]] (out of a total of [[Districts of India|640]]).<ref name=brgf/> It is one of the six districts in Gujarat currently receiving funds from the Backward Regions Grant Fund Programme (BRGF).<ref name=brgf>{{cite web|author=Ministry of Panchayati Raj|date=September 8, 2009|title=A Note on the Backward Regions Grant Fund Programme|publisher=National Institute of Rural Development|url=http://www.nird.org.in/brgf/doc/brgf_BackgroundNote.pdf|accessdate=September 27, 2011}}</ref>

 
+
 
+

==Divisions==

 

The major towns in ''Sabarkantha'' are:

 

The major towns in ''Sabarkantha'' are:

−

*{{wp|Akrund}}

 
−

*{{wp|Himmatnagar}}

 
⚫
 
⚫
 
⚫
 
−

*{{wp|Modasa}}

 
−

*{{wp|Dhansura}}

 
⚫
 
 
 
 
+

*[[Himmatnagar]] - Headquarter of District

 
+

*[[Modasa]] - Educational Hub

 
⚫
 
+

*[[Prantij]]

 
+

*[[Talod]] - Agriculture Hub

 
+

*[[Bayad]] - medical center

 
+

*[[Bhiloda]]

 
⚫
 
⚫
 
+

*[[Vadali]]

 
+

*[[Vijaynagar]]

 
+

*[[Dhansura]] - Mining Industry Hub

 
⚫
 
+

*[[Malpur]]

 
+
 
+

==Demographics==

 
+

According to the [[2011 census of India|2011 census]] {{PAGENAME}} has a [[Demographics of India|population]] of 2,427,346 ,<ref name=districtcensus> {{cite web | url = http://www.census2011.co.in/district.php | title = District Census 2011 | accessdate = 2011-09-30 | date = 2011 | publisher = Census2011.co.in}}</ref> roughly equal to the nation of [[Kuwait]]<ref name="cia">{{cite web | author = US Directorate of Intelligence | title = Country Comparison:Population | url = https://www.cia.gov/library/publications/the-world-factbook/rankorder/2119rank.html | accessdate = 2011-10-01 | quote =

 
+

Kuwait

 
+

2,595,62

 
+

}}</ref> or the US state of [[New Mexico]].<ref>{{cite web|url=http://2010.census.gov/2010census/data/apportionment-pop-text.php|title=2010 Resident Population Data|publisher=U. S. Census Bureau|accessdate=2011-09-30| quote =New Mexico - 2,059,179 }}</ref> This gives it a ranking of 183rd in India (out of a total of [[Districts of India|640]]).<ref name=districtcensus/> The district has a population density of {{convert| 328 |PD/sqkm|PD/sqmi}} .<ref name=districtcensus/> Its [[Family planning in India|population growth rate]] over the decade 2001-2011 was 16.56 %.<ref name=districtcensus/> Sabarkantha has a [[sex ratio]] of 950 [[Women in India|females]] for every 1000 males,<ref name=districtcensus/> and a [[Literacy in India|literacy rate]] of 76.6 %.<ref name=districtcensus/>

 
+
 
+

==Culture==

 
+

===Notable personalities===

 
+

[[Umashankar Joshi]] (1911-1988) Writer and scholar. Born in Bamna.

 
+
 
+

==References==

 
+

{{reflist}}

 
+
 
+

==External links==

 
+

[http://sabarkantha.gujarat.gov.in/ Official site]

 
+
 
+

{{Geographic location

 
+

|Centre = Sabarkantha district

 
+

|North = [[Sirohi district]], [[Rajasthan]]

 
+

|Northeast = [[Udaipur district]], [[Rajasthan]]

 
+

|East = [[Dungarpur district]], [[Rajasthan]]

 
+

|Southeast = [[Panchmahal district]]

 
+

|South = [[Kheda district]]

 
+

|Southwest = [[Gandhinagar district]]

 
+

|West = [[Mahesana district]]

 
+

|Northwest = [[Banaskantha district]]

 
+

}}

 
+
 
⚫
 
 
 
+

{{coord|23.6|72.95|type:adm2nd_region:IN|display=title}}

 
 
−

{{Gujarat state linkbox}}

 
⚫
 
 

[[Category:Districts of Gujarat]]

 

[[Category:Districts of Gujarat]]

 
+

[[Category:Sabarkantha district| ]]

 
 
 
+

{{Sabarkantha-geo-stub}}

 
 
 
+

{{usedwp}}

−

<noinclude><small>{{usedwp|Sabarkantha district}}</small></noinclude>

 
---
Latest revision as of 06:01, 23 December 2011
 
Articles, images

Archaeology • Landmarks • Migrations and settlements • Photo gallery • Prehistory • Timeline

People

Births • Deaths • Baptisms • Marriages  • Divorces  • Burials • Families • Residents

Daily life

Before 1401 • 1401-1450 • 1451-1500 • 1501-1550 • 1551-1600 • 1601-1650 • 1651-1700 • 1701-1750 • 1751-1800 • 1801-1850 • 1851-1900 •
1901-1950 • 1951-2000 • 2001-present

Research,
including
queries

Sabarkantha district links  • Birth records • Businesses • Cemeteries • Census data • Church records •
Court records • Death records • Directories • Landowner records • Marriage records • Maps •
Military records • Obituaries • Probate records • Queries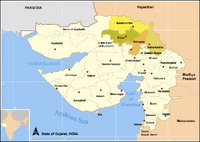 Sabarkantha is a district in Northeast of Gujarat state of India.
Geography[]
The administrative headquarters of the district is Himmatnagar, about 80 km from Ahmedabad.
Sabarkantha District is bounded by Rajasthan state to the northeast, Banaskantha and Mehsana districts to the west, Gandhinagar and Kheda districts to the south and Panchmahal District to the east.
Economy[]
In 2006 the Ministry of Panchayati Raj named Sabarkantha one of the country's 250 most backward districts (out of a total of 640).[1] It is one of the six districts in Gujarat currently receiving funds from the Backward Regions Grant Fund Programme (BRGF).[1]
Divisions[]
The major towns in Sabarkantha are:
Himmatnagar - Headquarter of District
Modasa - Educational Hub
Idar - Ancient fort
Prantij
Talod - Agriculture Hub
Bayad - medical center
Bhiloda
Khedbrahma - Pilgrim center
Shamlaji - pilgrim center
Vadali
Vijaynagar
Dhansura - Mining Industry Hub
Meghraj
Malpur
Demographics[]
According to the 2011 census Sabarkantha district has a population of 2,427,346 ,[2] roughly equal to the nation of Kuwait[3] or the US state of New Mexico.[4] This gives it a ranking of 183rd in India (out of a total of 640).[2] The district has a population density of 328 inhabitants per square kilometre (850 /sq mi) .[2] Its population growth rate over the decade 2001-2011 was 16.56 %.[2] Sabarkantha has a sex ratio of 950 females for every 1000 males,[2] and a literacy rate of 76.6 %.[2]
Culture[]
Notable personalities[]
Umashankar Joshi (1911-1988) Writer and scholar. Born in Bamna.
References[]
External links[]
 State

of

Gujarat

Major corporations

Ahmedabad
Surat
Vadodara
Rajkot
Jamnagar
Bhavnagar
Junagadh
Navsari
Surendranagar
Valsad
Udhana
Mehsana
Anand
Bharuch

Districts
Villages

Telnar
Topics
Major projects of Gujarat

Ahmedabad BRTS
Gujarat International Finance Tec-City
Sabarmati Riverfront Development Project
Sardar Sarovar Project
GSWAN
Regions of Gujarat

Bhal region
Kathiawad region
Gujarat Region
Sorath Region
Gohilwad region
Zhalawad region
Charotar region
Ghed region

Portal: Gujarat
Coordinates: 23°36′N 72°57′E / 23.6, 72.95