Rudolf Messerly
Sex:
Male
Birth:
05 APR 1844 Bern, Bern, Switzerland
Death:
18 JUN 1931 Cedar Falls,Blackhaw, , , Iowa
Father:
John Messerly (1812)
Mother:
Barbara Yerm
Spouse/Partner:
Sophia Tiedt (1848)
Marriage:
24 MAR 1870 Maxfield Twp, Bremer, Iowa
Rudolf Messerly
Essential information on this individual has not been located; therefore this article needs attention. Feel free to edit this page to help everyone learn more about this person.

Please obey Copyright; do not copy material except bare facts from other sources without permission. Acknowledge sources.
Mother is barbara "Yerm" according to very detailed LDS info (days given, specific citys for the events.)
Unless indicated otherwise, data is familysearch.org and may be verified there by running searches on the given names and dates.
Rudolf Messerly (1844)/ children
Cut/paste this line into Children topic and save.
subst:User:Knife Maker/child article | name=Rudolf Messerly | date=1844 | wife=[[Sophia Tiedt (1848)]] }}

Source- Rootsweb document with some dates verified by 1880 Census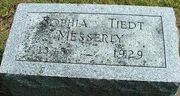 Community content is available under
CC-BY-SA
unless otherwise noted.