Rose Wilder Lane was born 5 December 1886 in De Smet, Kingsbury County, South Dakota, United States to Almanzo Wilder (1857-1949) and Laura Elizabeth Ingalls (1867-1957) and died 30 October 1968 Fairfield County, Connecticut, United States of unspecified causes. She married Claire Gillette Lane (1885-) 24 March 1907 in San Francisco, California.
Biography
Rose Wilder Lane is the only daughter of famous American writer Laura Ingalls and her husband Almanzo Wilder (1857-1949), creater of the Wikipedia:Little House on the Prairie book series.
Early Years
Around 1890, her family left De Smet, South Dakota and spent about a year resting at the home of Wilder's husband's parents on their Spring Valley, Minnesota farm before moving briefly to Westville, Florida, in search of a climate to improve Wilder's husband's health. They found, however, that the dry plains they were used to were very different from the humidity they encountered in Florida. The weather, along with feeling out of place among the locals, encouraged their return to De Smet in 1892, where they purchased a small home.
The young family suffered a series of disastrous events that included the death of their newborn son; the destruction of their barn along with its hay and grain by a mysterious fire;[18] the total loss of their home from a fire accidentally set by their daughter;[19] and several years of severe drought that left them in debt, physically ill, and unable to earn a living from their 320 acres (129.5 hectares) of prairie land.
In 1894, the Wilder family moved to Mansfield, Missouri, and used their savings to make the down payment on an undeveloped property just outside town. They named the place Rocky Ridge Farm and moved into a ramshackle log cabin.
Later years
Wilder was buried beside her husband at Mansfield Cemetery in Mansfield, Missouri. Their daughter, Rose Wilder Lane, was buried next to them upon her death in 1968.
Children
Offspring of Claire Gillette Lane and Rose Wilder (1886-1968)
Name
Birth
Death
Joined with

Infant Lane (1909-1909)
Siblings
Ancestry
Wilder was a descendant of the Delano family, the ancestral family of U.S. President Franklin Delano Roosevelt (1882-1945). Philip Delano (1602-1683), the progenitor of the Delano family, emigrated to Plymouth Colony in 1621 on the Fortune. Through the Delano line she is also a direct descendant of Mayflower pilgrim Richard Warren (c1580-1628) Another family ancestor, Edmund Rice (1594-1663), emigrated in 1638 to the Massachusetts Bay Colony. One paternal ancestor, Edmund Ingalls, was born on June 27, 1586, in Skirbeck, Lincolnshire, England, and emigrated to America, where he died in Lynn, Massachusetts, on September 16, 1648.
Vital Records
Gravesite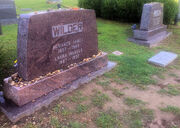 Location:

Mansfield Cemetery

at

Mansfield, Missouri
Gravesite of Laura Ingalls Wilder and husband Almanzo Wilder at Mansfield Cemetery, Mansfield, Missouri. Buried next to them is daughter Rose Wilder Lane.
Footnotes (including sources)