Robert Potter was born 17 January 1608 in Coventry, Warwickshire, England to George Potter (c1584-1640) and Martha Taylor (1585-1646) and died 1655 Roxbury, Suffolk County, Massachusetts of unspecified causes. Charlemagne (747-814)/s, Henry II of England (1133-1189)/s, Hugh Capet (c940-996)/s, William I of England (1027-1087)/s.
Biography
1637 Portsmouth Compact Signer
He (with his brother) was one of the signatories of the 1637 Portsmouth Compact of Loyalty founding Portsmouth, Rhode Island, the 2nd settlement in the new colony of Rhode Island. This group, most of were caught up in the events of the Antinomian Controversy from 1636 to 1638, had followed the family of dissident preacher Anne Hutchinson and her family from Massachusetts Bay Colony seeking religious freedom. This document was the first compact to declare both political and religious separation.
1642 Warwick Settlement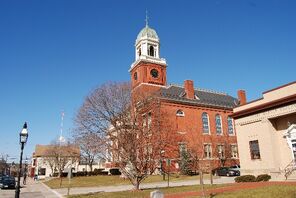 Warwick was founded in 1642 by Samuel Gorton and his followers convinced Narragansett Indian Chief Sachem Miantonomi agreed to accept 144 fathoms of Wampum for what was known as "The Shawhomett Purchase". This included the present day towns of Warwick, Coventry and West Warwick. The following year, a major dispute erupted over the purchase leading to significant trial in the colonial courts.
Children
Offspring of Robert Potter and

Isabel Anthony (1612-1644)

Name
Birth
Death
Joined with

Anthony Potter (c1628-1690)



Elizabeth Potter (c1631-1670)
1631
1670

Richard Harcourt (c1623-1696)




Deliverance Potter (c1637-1664)




John Potter (c1639-1694)




Isabel Potter (c1639-1724)




Robert Potter (1639-1709)
Siblings
Siblings
References
See also
External links
Contributors
Footnotes (including sources)