Biography
Robert Long was born 1760 in County Antrim, Ireland to Daniel Long (1723-1767) and Susanna Murdough (1723-1800) and died 20 January 1840 Laurens County, South Carolina, United States of unspecified causes. He married Elizabeth Adair (1756-1823) 1783 in Laurens County, South Carolina.
After his father's death when he was age 7, his mother remarried to Joseph Adair (1711-1788), who adopted her children.
Children
Siblings
Residences
Vital Records
Joseph Adair Family Memorial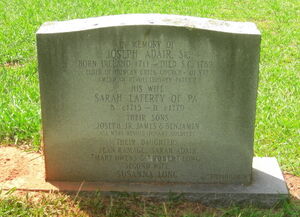 Duncan Creek Presbyterian Church Cemetery, Laurens County, South Carolina Note: This is a memorial, but not an actual gravestone.
IN MEMORY OF JOSEPH ADAIR, SR. BORN IRELAND 1711 - DIED S.C. 1789
ELDER OF DUNCAN CREEK CHURCH - 40 YRS, AMERICAN REVOLUTIONARY PATRIOT
HIS WIFE SARAH LAFERTY OF PA, B. c1715 - D. c1770
THEIR SONS JOSEPH JR., JAMES & BENJAMIN ALL WERE REVOLUTIONARY SOLDIERS
THEIR DAUGHTERS JEAN RAMAGE, SARAH ADAIR,
*MARY OWENS & *ROBERT LONG
SECOND WIFE SUSANNA LONG
* STEPCHILDREN
See Also
Footnotes (including sources)
Community content is available under
CC-BY-SA
unless otherwise noted.