Dick Cheney




---

In office
January 20, 2001 – January 20, 2009
President
George W. Bush
Preceded by
Al Gore
Succeeded by
Joe Biden

---

In office
March 20, 1989 – January 20, 1993
President
George H. W. Bush
Deputy
Donald J. Atwood, Jr.
Preceded by
Frank Carlucci
Succeeded by
Les Aspin

---

In office
January 3, 1989 – March 20, 1989
Leader
Robert H. Michel
Preceded by
Trent Lott
Succeeded by
Newt Gingrich

---

In office
January 3, 1979 – March 20, 1989
Preceded by
Teno Roncalio
Succeeded by
Craig L. Thomas

---

In office
November 21, 1975 – January 20, 1977
President
Gerald Ford
Preceded by
Donald Rumsfeld
Succeeded by
Hamilton Jordan

---

Born
January 30 1941
Lincoln, Nebraska, U.S.
Political party
Republican
Spouse(s)
Lynne Cheney
Children
Elizabeth Cheney
Mary Cheney
Residence
McLean, Virginia
Jackson, Wyoming
Alma mater
University of Wyoming (B.A./M.A.)
Profession
Politician
Businessman
Religion
Methodist
Signature
Richard Bruce "Dick" Cheney[1] (born January 30, 1941) served as the 46th Vice President of the United States from 2001 to 2009 under George W. Bush. He briefly served as Acting President of the United States on two occasions during which Bush underwent medical procedures.
Cheney was raised in Casper, Wyoming. He began his political career as an intern for Congressman William A. Steiger, eventually working his way into the White House during the Nixon and Ford administrations, where he served the latter as White House Chief of Staff. In 1978, Cheney was elected to the U.S. House of Representatives from Wyoming; he was reelected five times, eventually becoming House Minority Whip. Cheney was selected to be the Secretary of Defense during the presidency of George H. W. Bush, holding the position for the majority of Bush's term. During this time, Cheney oversaw the 1991 Operation Desert Storm, among other actions.
Out of office during the Clinton presidency, Cheney was chairman and CEO of Halliburton Company from 1995 to 2000.
Cheney was born in Lincoln, Nebraska, to Richard Herbert Cheney (1915-1999)[2] and Marjorie Lorraine Dickey (1918-1993)[3]. He attended Calvert Elementary School[4][5] before his family moved to Casper, Wyoming,[6] where he attended Natrona County High School. His father was a soil conservation agent for the U.S. Department of Agriculture. His mother was a softball star in the 1930s.[7] He has a brother and a sister. He attended Yale University but says "I flunked out."[8][9] and later attended the University of Wyoming where he earned both a B.A. and M.A. in political science. He subsequently started, but did not finish, doctoral studies at the University of Wisconsin-Madison.[6][10] In April of 2007 Cheney was awarded an Honorary Doctorate of Public Service from Brigham Young University, where he delivered the commencement address.[11]
In 1964, he married Lynne Vincent, his high-school sweetheart, whom he had met at age fourteen. Mrs. Cheney served as Chair of the National Endowment for the Humanities from 1986 to 1996. She is now a public speaker, author, and a senior fellow at the American Enterprise Institute.
Cheney has two children, Elizabeth and Mary, and six grandchildren. Elizabeth, his eldest daughter, is married to Philip J. Perry, General Counsel of the Department of Homeland Security. Mary is one of her father's top campaign aides and closest confidantes; she currently lives in Great Falls, Virginia with her longtime partner, Heather Poe.[12] Mary's pregnancy and her sexual orientation as a lesbian became a source of public attention for Cheney during the 2004 election in light of the same-sex marriage debate.[13]
Lynne Cheney stated that, according to her own genealogical research, her husband is an eighth cousin of Barack Obama, both descended from Mareen Duvall, a 17th-century French immigrant.[14] The WARGS site[15] says Duvall is Cheney's ancestor 1282 and 1284 in Ahnentafel numbering. Ancestor 160, Edward Tyler (1720-1802), was the son of two of Duvall's grandchildren, Edward Tyler (1696) and Elizabeth Duvall (1697).
Cheney attends the United Methodist Church.
Early arrests for drunk driving
[
edit
|
edit source
]
In November 1962, at the age of twenty-one, Cheney was convicted for the first of two offenses of driving while intoxicated (DWI). According to the docket from the Municipal Court in Cheyenne, Wyoming, Cheney was arrested for drunkenness and, "operating a motor vehicle while intoxicated."[16] A Cheyenne Police Judge found Cheney guilty of the two charges. Cheney's driving license was suspended for 30 days and he had to forfeit a $150 bond posted at the time of his arrest.
Eight months later, in July 1963, Cheney was arrested in Rock Springs, Wyoming and fined $100 for his second DWI conviction. At the time, it was not possible for the authorities in each area to link the two convictions, which would have resulted in the second offense being viewed much more seriously. Since this arrest, Cheney has had no further convictions.[16]
Cheney discussed his record in a May 7, 2001, interview in The New Yorker. Cheney said that he found himself, "working, building power lines, having been in a couple of scrapes with the law."[17] He said that the arrests made him, "think about where I was and where I was headed. I was headed down a bad road if I continued on that course."[17]
Cheney was of military age and a supporter of the Vietnam War but he did not serve in the war, applying for and receiving five draft deferments. In an interview with George C. Wilson that appeared in the April 5, 1989 issue of The Washington Post, when asked about his deferments the future Defense Secretary said, "I had other priorities in the '60s than military service."[18] In January 1959 Mr. Cheney reached age 18 and was classified as 1-A — available for service. At that time, however, the military was taking only older men, and like most others who were in college at the time (Cheney was at Yale) he had little concern about being drafted. In June 1962, Cheney left Yale to return home to Casper, where he worked as a lineman for a power company before enrolling at the University of Wyoming. In 1962, only 82,060 men were inducted into the service, the fewest since 1949. While Cheney was eligible for the draft, as he said during his confirmation hearings in 1989, he was not called up because the Selective Service System was only taking older men.
By January 1963, with the US actively advising South Vietnamese forces, Cheney enrolled in Casper Community College and turned 22 that month. At that time, he sought his first student deferment, which was granted on March 20, according to records from the Selective Service System. After transferring to the University of Wyoming at Laramie, Cheney sought his second student deferment on July 23, 1963. On August 7, 1964, Congress approved the Gulf of Tonkin resolution, which allowed President Lyndon B. Johnson to use military force in Vietnam. From that point on, American involvement in Vietnam began to escalate rapidly.
On August 29, 1964, 22 days after the resolution, Cheney married his high school sweetheart, Lynne. He sought and was granted his third student deferment on October 14, 1964. In May 1965, Cheney graduated from college and his draft status changed to 1-A. Since he was married, however, he had somewhat better protection from being drafted. In July 1965, Johnson announced that he was doubling the number of men drafted. The number of inductions soared, to 382,010 in 1966 from 230,991 in 1965 and 112,386 in 1964.
On March 8, 1965, the first American regular combat units were deployed in Vietnam. On October 6, 1965, the Selective Service lifted its ban against drafting married men who had no children. Cheney obtained his fourth deferment because he started graduate school at the University of Wyoming on November 1, 1965. On January 19, 1966, when his wife was about 10 weeks pregnant, Mr. Cheney applied for 3-A status, the "hardship" exemption, which excluded men with children or dependent parents. It was granted. In January 1967, Cheney turned 26 and was no longer eligible for the draft.[19]
Early White House appointments
[
edit
|
edit source
]
Dick Cheney's political career began in 1969, as an intern for Congressman William A. Steiger during the Nixon Administration. The intern Cheney then joined the staff of Donald Rumsfeld, who was then Director of the Office of Economic Opportunity from 1969–70. He held a number of positions in the years that followed: White House Staff Assistant in 1971, Assistant Director of the Cost of Living Council from 1971–73, and Deputy Assistant to the President from 1974–1975. It was in this position that Cheney suggested in a memo to Rumsfeld that the Ford White House should use the Justice Department in a variety of legally questionable ways to exact retribution for an article published by New York Times investigative reporter Seymour Hersh.[20]
From 1973–1974, Cheney had worked in the private sector as Vice President of Bradley, Woods, and Company, an investment firm.[21]
Under President Gerald Ford, Cheney worked as Assistant to the President. Rumsfeld first oversaw Ford's White House "transition team" and then later became Ford's Chief of Staff. Rumsfeld was named Secretary of Defense, and Cheney became Chief of Staff to the President. In addition, Cheney and Rumsfeld successfully pushed for William Colby to be replaced by George H. W. Bush as the Director of Central Intelligence, forging what would become a long-term relationship with the future president.
Cheney was campaign manager for Ford's 1976 Presidential Campaign, while James Baker served as Campaign Chairman.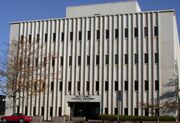 In 1978, Cheney was elected to represent Wyoming in the U.S. House of Representatives to replace resigning Congressman Teno Roncalio, defeating his Democratic opponent, Bill Bailey. Cheney was reelected five times, serving until 1989. He was Chairman of the Republican Policy Committee from 1981 to 1987 when he was elected Chairman of the House Republican Conference. The following year, he was elected House Minority Whip.
Among the many votes he cast during his tenure in the House, he voted in 1979 with the majority against making Dr. Martin Luther King, Jr.'s birthday a national holiday, and again voted with the majority in 1983 when the measure passed.
He voted against the creation of the U.S. Department of Education, citing his concern over budget deficits and expansion of the federal government. He also claimed the Department was an encroachment on states' rights.[22]
He also voted against funding Head Start. As a vice presidential candidate in 2000, he reversed his position.[23]
In 1986, after President Ronald Reagan vetoed a bill to impose economic sanctions against South Africa for its official policy of apartheid, Cheney was one of 83 Representatives who voted against overriding the veto. In later years, Cheney articulated his opposition to "unilateral sanctions," against many different countries, stating "they almost never work."[24] He also opposed unilateral sanctions against Communist Cuba, and later in his career he would support multilateral sanctions against Iraq. In 1986, Cheney, along with 145 Republicans and 31 Democrats, voted against a non-binding Congressional resolution calling on the South African government to release Nelson Mandela from prison, after the majority Democrats defeated proposed amendments to the language that would have required Mandela to renounce violence sponsored by the African National Congress (ANC) and requiring the ANC to oust the Communist faction from leadership. The resolution was defeated. Appearing on CNN during the Presidential campaign in 2000, Cheney addressed criticism for this, saying he opposed the resolution because the ANC "at the time was viewed as a terrorist organization and had a number of interests that were fundamentally inimical to the United States."[25]
Cheney also served as ranking minority member of the Congressional committee investigating Iran-Contra — a scandal involving members of the Reagan Administration who helped to illegally sell arms to Iran, and then used the proceeds to fund, also illegally, the Contras, a guerrilla militia in Nicaragua resisting the elected Sandinista government.[26] In that role he supervised the production of a minority report, which strongly rejected the majority finding[27] that a "cabal of zealots" in the administration who had "disdain for the law" had violated the statute.[28][29]
As a Wyoming Representative, he was also known for his vigorous advocacy of the state's petroleum and coal businesses. The federal building in Casper, a regional center of the oil and coal business, was named the "Dick Cheney Federal Building."
In December 1988, the House Republicans elected Cheney to the second spot in the leadership, but he only served two and a half months, as he was appointed Secretary of Defense (see below) to replace former Texas Senator John G. Tower, whose nomination had been rejected by the Senate in March 1989.
As it turned out, Cheney won his last term in the House in 1988, when he easily defeated the Democrat Bryan Sharratt, later a member of the Clinton administration defense team.
Cheney served as the Secretary of Defense from March 1989 to January 1993 under President George H. W. Bush. He directed the United States invasion of Panama and Operation Desert Storm in the Middle East. In 1991 he was awarded the Presidential Medal of Freedom for "preserving America's defenses at a time of great change around the world."[30]
Cheney generally focused on external matters and delegated most internal Pentagon management details to Deputy Secretary of Defense Donald J. Atwood, Jr. He worked closely with Pete Williams, Assistant Secretary of Defense for Public Affairs, and Paul Wolfowitz, Under Secretary of Defense for Policy. For Chairman of the Joint Chiefs of Staff he selected General Colin Powell, who assumed the post on October 1, 1989. Many of Cheney's major decisions resulted from the almost daily meetings he had in the Pentagon with Powell and Atwood.
Cheney met regularly with Bush and other top-level members of the Administration, including Secretary of State James Baker, National Security Advisor Brent Scowcroft, White House Chief of Staff John H. Sununu, and General Powell. Occasionally Bush consulted with Cheney on matters unrelated to defense, such as White House organization and management. When not at the White House, Cheney was often on Capitol Hill. He understood how Congress, and more particularly the legislative process, operated, and he used this knowledge and experience to get along well with Congress and with the Department of Defense's main oversight committees in the House and the Senate.
Political climate and agenda
[
edit
|
edit source
]
Although some of the usual turf battles between the State and Defense Departments continued during his term, Cheney and Secretary of State Baker were old friends and avoided the acrimony that sometimes occurred between the two departments during the Weinberger period. On the important problem of arms control, Cheney and Powell tried to reach consensus on Department of Defense's position in order to deal more effectively with the State Department. After the collapse of the Soviet Union in 1991, Cheney worried about the dangers of nuclear proliferation and effective control of nuclear weapons from the Soviet nuclear arsenal that had come under the control of newly independent republics — Belarus, Ukraine, and Kazakhstan — as well as in Russia itself. Cheney warned about the possibility that other nations, such as Iraq, Iran, and North Korea, would acquire nuclear components after the Soviet collapse. He supported the initiatives that President Bush and Russian President Boris Yeltsin took in 1991 and 1992 to cut back the production and deployment of nuclear weapons and to move toward new arms control agreements.
The end of the Cold War, the fall of the Soviet Union, and the disintegration of the Warsaw Pact obliged the Bush Administration to reevaluate NATO's purpose and makeup. How to restructure the alliance and modify its strategy to reflect changes in the military situation posed major questions for Cheney. He believed that NATO had to remain the foundation of European security relationships and that it would continue to be important to the United States in the long term. At the last NATO meeting he attended, in Brussels in December 1992, Cheney said that the alliance needed to lend more assistance to the new democracies in Eastern Europe and eventually offer them membership in NATO. He told his NATO colleagues that Central and Eastern Europe presented the most threatening potential security problems in the years ahead. The current problem was East and West versus instability rather than East versus West.
Cheney's views on NATO reflected his skepticism about prospects for peaceful evolution in the former Soviet areas. He saw high potential for uncertainty and instability, and he felt that the Bush Administration was too optimistic in supporting Soviet premier Mikhail Gorbachev and his successor, Boris Yeltsin. Cheney believed that as the United States downsized its military forces, reduced its troops in Europe, and moved forward with arms control, it needed to keep a watchful eye on Russia and other successor states of the Soviet Union.
His most immediate and pressing problem was at the Pentagon was the Department of Defense budget. President Bush had already said publicly that the proposed FY 1990 Defense budget of more than $300 Billion had to be cut immediately by $6.3 Billion, and soon after Cheney began work, the President increased the amount to $10 Billion. Cheney recognized the necessity of cutting the budget and downsizing the military establishment, but he favored a cautious approach. In making decisions on the FY 1990 budget, Secretary Cheney had to confront the wish list of each of the armed services. The Air Force wanted to buy 312 B-2 stealth bombers at over $500 million each; the Marine Corps wanted 12 V-22 Osprey tilt-rotor helicopters, $136 million each; the Army wanted some $240 million in FY 1990 to move toward production of the LHX, a new reconnaissance and attack helicopter, to cost $33 billion eventually; and the Navy wanted 5 Aegis guided-missile destroyers, at a cost of $3.6 billion. A policy on ballistic missiles also posed a difficult choice. One option was to build 50 more MX missiles to join the 50 already on hand, at a cost of about $10 billion. A decision had to be made on how to base the MX — whether on railroad cars or in some other mode. Another option was to build 500 single-warhead Midgetman missiles, still in the development stage, at an estimated cost of $24 billion.
In April, Cheney recommended to Bush that the United States move ahead to deploy the 50 MXs and discontinue the Midgetman project. While not unalterably opposed to the Midgetman, Cheney questioned how to pay for it in a time of shrinking defense budgets. Cheney's plan encountered opposition both inside the Bush Administration and in Congress. Bush decided not to take Cheney's advice; he said he would seek funding to put the MXs on railroad cars by the mid-1990s and to develop the Midgetman, with a goal of 250 to 500.
When Cheney's FY 1990 Budget came before Congress in the summer of 1989, the Senate Armed Services Committee made only minor amendments, but the House Armed Services Committee cut the strategic accounts and favored the V-22, F-14D, and other projects not high on Cheney's list. The House and Senate in November 1989 finally settled on a budget somewhere between the preferences of the Administration and the House Committee. Congress avoided a final decision on the MX/Midgetman issue by authorizing a $1 billion missile modernization account to be apportioned as the president saw fit. Funding for the F-14D was to continue for another year, providing 18 more aircraft in the program. Congress authorized only research funds for the V-22 and cut the Strategic Defense Initiative ("Star Wars") funding more than $1 billion, much to the displeasure of President Bush.
In subsequent years under Cheney the budgets proposed and the final outcomes followed patterns similar to the FY 1990 Budget experience. Early in 1991 the secretary unveiled a plan to reduce military strength by the mid-1990s to 1.6 million, compared to 2.2 million when he entered office. In his budget proposal for FY 1993, his last one, Cheney asked for termination of the B-2 program at 20 aircraft, cancellation of the Midgetman, and limitations on advanced cruise missile purchases to those already authorized. When introducing this budget, Cheney complained that Congress had directed Defense to buy weapons it did not want, including the V-22, M-1 tanks, and F-14 and F-16 aircraft, and required it to maintain some unneeded reserve forces. His plan outlined about $50 billion less in budget authority over the next 5 years than the Bush Administration had proposed in 1991. Sen. Sam Nunn of the Senate Armed Services Committee said that the 5-year cuts ought to be $85 Billion, and Rep. Les Aspin of the House Armed Services Committee put the figure at $91 Billion.
Over Cheney's four years as Secretary of Defense, encompassing budgets for Fiscal Years 1990–93, the Department of Defense's total obligational authority in current dollars declined from $291.3 billion to $269.9 billion. Except for FY 1991, when the TOA Budget increased by 1.7 percent, the Cheney budgets showed negative real growth: -2.9 percent in 1990, -9.8 percent in 1992, and -8.1 percent in 1993. During this same period total military personnel declined by 19.4 percent, from 2.202 million in FY 1989 to 1.776 million in FY 1993. The Army took the largest cut, from 770,000 to 572,000 — 25.8 percent of its strength. The Air Force declined by 22.3 percent, the Navy by 14 percent, and the Marines by 9.7 percent.
The V-22 question caused friction between Cheney and Congress throughout his tenure. The Department of Defense spent some of the money Congress appropriated to develop the aircraft, but Congressional sources accused Cheney, who continued to oppose the Osprey, of violating the law by not moving ahead as Congress had directed. Cheney argued that building and testing the prototype Osprey would cost more than the amount appropriated. In early 1992 several Congressional supporters of the V-22 threatened to take Cheney to court over the issue. A little later, in the face of suggestions from Congressional Republicans that Cheney's opposition to the Osprey was hurting President Bush's reelection campaign, especially in Texas and Pennsylvania where the aircraft would be built, Cheney relented and suggested spending $1.5 billion in Fiscal Years 1992 and 1993 to develop it. He made clear that he personally still opposed the Osprey and favored a less costly alternative.
Panama, controlled by General Manuel Antonio Noriega, the head of the country's military, against whom a U.S. grand jury had entered an indictment for drug trafficking in February 1988, held Cheney's attention almost from the time he took office. Using economic sanctions and political pressure, the United States mounted a campaign to drive Noriega from power. In May 1989 after Guillermo Endara had been duly elected President of Panama, Noriega nullified the election outcome, incurring intensified U.S. pressure on him. In October Noriega succeeded in quelling a military coup, but in December, after his defense forces shot a U.S. serviceman, 24,000 U.S. troops invaded Panama. Within a few days they achieved control and Endara assumed the Presidency.
Noriega took refuge in the Vatican's embassy in Panama City, the Papal Nuncio, and the Vatican initially rejected U.S. demands that they turn Noriega over to U.S. forces, saying "the church believed that his asylum request had certain legitimate political dimensions."[31] U.S. forces arrested Noriega and flew him to Miami where he was held until his trial, which led to his conviction and imprisonment on racketeering and drug trafficking charges in April 1992.
Cheney took a strong stand against use of U.S. ground troops in the Bosnian War between Serbs, Croats, and Bosnians that began in April 1992. After the collapse of a collective presidency in Yugoslavia in the early 1990s, the country split into several independent republics, including the Republic of Bosnia and Herzegovina, which declared its independence in March 1992. Whether and how to intervene in Bosnia evoked an emotional debate in the United States, but Cheney left office before any firm decisions were made, and his successors inherited the knotty issue.
In Somalia also, a civil war that began in 1991 claimed the world's attention. In August 1992 the United States began to provide humanitarian assistance, primarily food, through a military airlift. In December, only a month before he left office, at President Bush's direction Cheney dispatched the first of 26,000 U.S. troops to Somalia as part of the Unified Task Force (UNITAF), designed to provide security and food relief. Cheney's successors as Secretary of Defense, Les Aspin and William J. Perry, had to contend with both the Bosnian and Somali issues.
Cheney's biggest challenge came in the Persian Gulf. On August 1, 1990, Iraqi dictator Saddam Hussein sent invading forces into neighboring Kuwait, a small oil-rich country long claimed by Iraq. An estimated 140,000 Iraqi troops quickly took control of Kuwait City and moved on to the Saudi Arabia/Kuwait border. The United States had already begun to develop contingency plans for defense of Saudi Arabia by the U.S. Central Command, headed by General Norman Schwarzkopf.
Shortly after the Iraqi invasion, Cheney made the first of several visits to Saudi Arabia and secured King Fahd's permission to bring U.S. troops into the country. The United Nations took action, passing a series of resolutions condemning Iraq's invasion of Kuwait, and eventually demanded that Iraq withdraw its forces by January 15, 1991. By then, the United States had a force of about 500,000 stationed in Saudi Arabia and the Persian Gulf. Other nations, including Great Britain, Canada, France, Italy, Syria, and Egypt, contributed troops, and other allies, most notably Germany and Japan, agreed to provide financial support for the coalition effort, named Operation Desert Shield.
As the military buildup in Saudi Arabia (Desert Shield) proceeded in the fall of 1990 and as the UN coalition moved toward military action, Cheney worked closely with General Powell in directing the movement of U.S. personnel, equipment, and supplies to Saudi Arabia. He participated intently with Powell, Schwarzkopf, and others in overseeing planning for the operation. Cheney, according to Powell, "had become a glutton for information, with an appetite we could barely satisfy. He spent hours in the National Military Command Center peppering my staff with questions." When hostilities began in January 1991, Cheney turned most other Department of Defense matters over to Deputy Secretary Atwood. Cheney spent many hours briefing Congress during the air and ground phases of the war.
In an incident in September 1990 involving General Michael Dugan, who had replaced General Welch as Air Force chief of staff, Cheney again demonstrated the primacy of civilian authority over the military. On a return flight from Saudi Arabia, in discussions with reporters about the Kuwait situation, Dugan was guilty of indiscretions that became public and could not help but invite Cheney's attention. Powell's later recollection of this episode summed up the problem: "Dugan had made the Iraqis look like a pushover; suggested that American commanders were taking their cue from Israel, a perception fatal to the Arab alliance we were trying to forge; suggested political assassination... ; claimed that air power was the only option; and said... that the American people would not support any other Administration strategy." Cheney quickly decided to fire Dugan, who had been Air Force Chief of staff for less than three months.
In the meantime a Congressional and public debate developed in the United States about whether to rely on economic sanctions against Iraq or to use military force. Bush in October 1990 settled on military action if Iraq's troops had not left Kuwait by the January 15, 1991 deadline. In November 1990 UN Resolution 678 authorized "all necessary means" to expel Iraq from Kuwait. The debate ended on January 12, 1991, when both Houses of Congress agreed to a joint resolution stating that the President was to satisfy Congress that he had exhausted all means to secure Iraq's compliance with UN resolutions on Kuwait before he initiated hostilities.
The first phase of Operation Desert Storm, which began on January 17, 1991, was an air offensive to secure air superiority and attack Iraq's forces in Kuwait and Iraq proper. Targets included key Iraqi command and control centers, including Baghdad and Basra. Iraq retaliated by firing Scud missiles against locations in Saudi Arabia and Israel. The United States used Patriot missiles to defend against the Scuds, which were old and unsophisticated, and diverted some aircraft to seek out and bomb the missile sites. The Israeli government wanted to use its own air power to hunt down and destroy Scud launch sites in western Iraq, but U.S. officials, concerned about the effect on the Arab members of the coalition, succeeded in persuading Israel not to intervene.
After an air offensive of more than five weeks, the UN coalition launched the ground war, with the first forces thrusting into Kuwait from Saudi Arabia early in the morning of February 24. Within four days Iraqi forces had been routed from Kuwait and pushed into the interior of Iraq after suffering heavy losses. Although easily defeated, Iraq's army did considerable damage while retreating, including setting fire to many oil wells. By February 27 General Schwarzkopf reported that the basic objective — expelling Iraqi forces from Kuwait — had been met. After consultation with Cheney, Powell, and other members of his national security team, Bush declared a suspension of hostilities effective at midnight on February 27, Washington time. A total of 147 U.S. military personnel died in combat, and another 236 died as a result of accidents or other causes. Iraq agreed to a formal truce on March 3, and a permanent cease-fire on April 6.
Subsequently there was debate about whether the UN coalition should have driven all the way to Baghdad to oust Saddam Hussein from power. Bush and his advisers agreed unanimously on the decision to end the ground war when they did. The UN resolutions on the war limited military action to expelling Iraq from Kuwait.
The debate persisted for years after the war as Saddam Hussein remained in power, rebuilt his military forces, resisted full implementation of the cease-fire terms, and periodically threatened Kuwait.
Cheney regarded the Gulf War as an example of the kind of regional problem the United States was likely to continue to face.
We're always going to have to be involved [in the Middle East]. Maybe it's part of our national character, you know we like to have these problems nice and neatly wrapped up, put a ribbon around it. You deploy a force, you win the war and the problem goes away and it doesn't work that way in the Middle East it never has and isn't likely to in my lifetime.[32]
He thought the successful campaign validated the broad strategy developed under his direction. A draft Defense Planning Guidance issued early in 1992 envisioned several scenarios in which the United States might have to fight two large regional wars at one time — for example, against Iraq again, against North Korea, or in Europe against a resurgent, expansionist Russia. The Pentagon later modified this document, but it gave some indication of what the Defense Department saw as future threats to the United States.
Presidential aspirations in 1994
[
edit
|
edit source
]
In 1994, Cheney briefly considered running for the presidency. His fund-raising efforts netted a few million dollars and a good organization.[33]
On August 13, 2007, Editor and Publisher reported that a video of an April 15, 1994 interview of Cheney at the American Enterprise Institute — where he was working at the time — had surfaced on the Internet. In the video, Cheney explains that trying to take over Iraq would be a bad idea and lead to a "quagmire."[34]
With Democrats returning to the White House in January 1993, Cheney left the Department of Defense and joined the American Enterprise Institute. From 1995 until 2000, he served as Chairman of the Board and Chief Executive Officer of Halliburton, a Fortune 500 company and market leader in the energy sector. Cheney's record as C.E.O. was the subject of some dispute among Wall Street analysts, and a 1998 merger between Halliburton and Dresser Industries attracted the criticism of some Dresser executives for Halliburton's lack of accounting transparency.[35]
During Cheney's tenure, Halliburton changed its accounting practices regarding revenue realization of disputed costs on major construction projects.[36]
In 1997, along with Donald Rumsfeld, William Kristol and others, Cheney founded the "Project for the New American Century," a neo-conservative U.S. think tank whose self-stated goal is to "promote American global leadership."[37] One of the PNAC's positions involved urging the United States to remove Saddam Hussein's regime from power in Iraq, using "diplomatic, political and military efforts".[38] He was also part of the board of advisors of the Jewish Institute for National Security Affairs (JINSA) before becoming Vice President.
In early 2000, while serving as Halliburton's CEO, he headed George W. Bush's Vice-Presidential Search Committee. After reviewing Cheney's findings, on July 25th, Bush surprised some pundits by asking Cheney himself to join the Republican ticket. Halliburton reportedly reached agreement on July 20th to allow Cheney to retire, with a package estimated at $20 million.[39]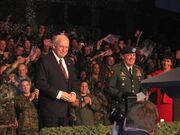 In the 2000 Presidential Election, a question was raised by the Democrats as to Cheney's state of residency since he had been living in Texas.
Uncomfortable with the "rope line" receptions of "retail politics" during the campaign, Cheney had a very collegial television debate with Democratic Vice-Presidential nominee Senator Joseph Lieberman, in stark contrast to the Bush-Gore debates.
Cheney was heard on an open microphone agreeing with then-Governor Bush's remark that political reporter Adam Clymer was a "major league asshole from The New York Times" [2]
While the outcome of the election was still very much in doubt in Florida and then federal courts, Cheney opened a privately-funded transition office in Washington, when the Bush-Cheney ticket was denied public funding for transition planning. The independently financed transition office worked to fill all important Cabinet-level and sub-Cabinet level positions.[3] [4]
Following the September 11, 2001 attacks, Vice President Cheney and President Bush were kept in physically distant locations for security reasons. For a period Cheney was not seen in public, remaining in an undisclosed location and communicating with the White House via secure video phones.
On the morning of June 29, 2002, Cheney served as Acting President of the United States under the terms of the 25th Amendment to the Constitution, while President Bush was undergoing a colonoscopy. Cheney acted as President from 11:09 UTC that day until Bush resumed control at 13:24 UTC.[40][41] (See First Bush transfer of power.)
Cheney's former chief legal counsel, David Addington, is currently his chief of staff. John P. Hannah serves as his national security adviser; the two roles had been combined under I. Lewis "Scooter" Libby, Jr.[42]
On April 24, 2007, Democratic Presidential Candidate Rep. Dennis Kucinich of Ohio presented articles of impeachment against Cheney, as House Resolution 333.[43][44][45] It was not initially cosponsored, and was immediately referred to the House Judiciary Committee, where it remains.[46] The resolution has acquired eighteen cosponsors since its introduction, six of whom are members of the House Judiciary Committee.[47][48][49]
Under the same circumstances as on June 29, 2002, on the morning of July 21, 2007, Cheney served as Acting President for approximately 2 and a half hours. President Bush transferred the power of the presidency prior to undergoing a medical procedure requiring sedation and later resumed his powers and duties that same day.
Cheney directed the National Energy Policy Development Group (NEPDG)[50] commonly known as the Energy task force. Comprised by people in the energy industry, this group included several Enron executives. Because of the subsequent Enron scandal, critics accused the Bush Administration of improper political and business ties. In July 2003, the Supreme Court ruled that the Department of Commerce must make the NEPDG's documents public. The documents included information on companies that had made agreements with Saddam Hussein to develop Iraq's oil. The documents also included maps of oil deposits in Saudi Arabia, Iraq, and the United Arab Emirates. The NEPDG's report contains several chapters, covering topics such as environmental protection, energy efficiency, renewable energy, and energy security. Critics focus on the eighth chapter, "Strengthening Global Alliances,"[51] claiming that this chapter urges military actions to remove strategic, political, and economic obstacles to increased U.S. consumption of oil, while others argue that the report contains no such recommendation. In June 2007, the defiance of the vice-president's office to executive branch rules on handling of confidential information, as monitored by the Information Security Oversight Office, was questioned.[52] The head of the ISOO, Bill Leonard, told Rep. Henry Waxman that Cheney had asserted that his office was not part of the executive branch and was not required to follow certain rules, set forth in presidential orders, regarding the disclosure of classified documents or submit to routine required inspections. In a letter to Cheney, Rep. Waxman asserted that Leonard had inquired after the documents twice, after which Cheney attempted to get rid of the ISOO altogether.[53]
Many Democratic senators criticized Cheney for the refusal. Senator Dianne Feinstein called it "the height of arrogance."[54]
David Shuster of MSNBC interviewed former Cheney aide Ron Christie on the legal rationale employed by the Office of the Vice President that it is not "an entity within the Executive Branch."[5] At the same time, Cheney has used his "executive privilege" to deny congressional information requests. In late June–July of 2007, a number of mainstream media outlets such as TIME Magazine and CBS News began focusing on whether Cheney had created a "fourth branch of government" that was subject to no laws.[55][56]
After Congressman Rahm Emanuel threatened to attempt to cut off $4.8 million in executive branch funding from Cheney's office, the office wrote a letter saying that Cheney will not pursue any type of arrangement separate from the executive branch.[57]
On August 20, 2007, Vice Presidential counsel Shannen W. Coffin wrote to Senate Judiciary Committee chairman Patrick Leahy, responding to a subpoena issued to the Office of the Vice President on June 27, 2007 for documents related to the NSA warrantless surveillance controversy. Coffin's letter said in part that "the issuance of the subpoena to this office was procedurally irregular" because the judiciary panel only authorized Leahy to issue summonses to the Executive Office of the President (EOP) and the Justice Department.[58] Coffin's letter also said that the OVP had identified more than 40 "Top Secret/Codeword Presidential Authorizations" and memoranda from the Justice Department that may respond to the subpoena.[59][60]
Both supporters and opponents of Cheney point to his reputation as a very shrewd and knowledgeable politician who knows the functions and intricacies of the federal government. One sign of Cheney's active policy-making role is the fact that the House Speaker Dennis Hastert gave him an office near the House floor[61] in addition to his office in the West Wing, his ceremonial office in the Old Executive Office Building, and his Senate offices (one in the Dirksen Senate Office Building and another off the floor of the Senate).[62]
The selection of Vice President Dick Cheney as the graduate commencement speaker at Brigham Young University on April 26, 2007 generated controversy that was covered by all major news outlets.[63] Gordon B. Hinkley and the rest of the Board of Trustees issued a statement explaining that the invitation to Vice President Cheney should be viewed "as one extended to someone holding the high office of vice president of the United States rather than to a partisan political figure."[64] BYU permitted a protest to occur so long as it did not "attack (the) BYU administration, the Church or the First Presidency."[65] The head of the protest was invited to appear on The Daily Show with Jon Stewart but did not do so because, "It wouldn't be a big deal if they were to make fun of our club, because it is funny, but it's something else if it's BYU or the church."[66] A group of students held an alternative commencement off campus at a different time featuring Ralph Nader as a speaker.[67]
On October 10 2007, in an interview on BBC World News America, former President Jimmy Carter called Cheney a "militant" and a "disaster" for the United States, to quote Carter:
"He's a militant who avoided any service of his own in the military and he has been most forceful in the last 10 years or more in fulfilling some of his more ancient commitments that the United States has a right to inject its power through military means in other parts of the world."
"You know he's been a disaster for our country, I think he's been overly persuasive on President George Bush and quite often he's prevailed."[68]
Relationship to Halliburton as Vice President
[
edit
|
edit source
]
Cheney resigned as CEO of Halliburton on July 25, 2000. As part of his deferred compensation agreements with Halliburton contractually arranged prior to Cheney becoming Vice President, Cheney's public financial disclosure sheets filed with the U.S. Office of Government Ethics showed he received $162,392 in 2002 and $205,298 in 2001. Upon his nomination as a Vice Presidential candidate, Cheney purchased an annuity that would guarantee his deferred payments regardless of the company's performance. He argued that this step removed any conflict of interest. Cheney's net worth, estimated to be between $30 million and $100 million, is largely derived from his post at Halliburton.[69]
In 2005, the Cheneys reported their gross income as nearly $8.82 million. This was largely the result of exercising Halliburton stock options that had been set aside in 2001 with the Gift Trust Agreement. The Cheneys donated just under $6.87 million to charity from the stock options and royalties from Mrs. Cheney's books.[70]
Cheney has a Gift Trust Agreement pursuant to which an Administrative Agent has the right to exercise those options and distribute the proceeds from the sale of the resulting stock to certain charitable organizations. All proceeds of the options will be split between the George Washington University Medical Faculty Associates, Inc. for the benefit of the Cardiothoracic Institute, the University of Wyoming for the benefit of the University of Wyoming Foundation, and Capital Partners for Education for the benefit of low-income high school students in the Washington, D.C. area.[71]
Halliburton was granted a $7 billion no-bid contract, the execution of which received much scrutiny from U.S. Government auditors along with the media and various political opponents who also scrutinized the awarding of the contract, claiming that it represented a conflict of interest for Mr. Cheney. In June 2004, the General Accounting Office reviewed the contracting procedures and found Halliburton's no-bid contracts were legal and likely justified by the Pentagon's wartime needs.[72]
A few days after accusing the Vice President of cronyism regarding Halliburton, Democratic Senator Patrick Leahy crossed the Senate floor to the Republican side to speak with Vice President Cheney during a Senate photo shoot. According to Cheney, Leahy was trying to "make small talk" and "act like everything's peaches and cream." Cheney ended the conversation by saying "go fuck yourself" to Leahy.[73][74] These same words were shouted at Cheney on live television on September 8, 2005, in Gulfport, Mississippi, while he was touring the destroyed neighborhood of Ben Marble, M.D. Dr. Marble said "Go fuck yourself, Mr. Cheney!"[75][76][77] in reference to Cheney's comments on the Senate floor as justification.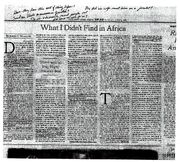 — See also: CIA leak grand jury investigation and United States v. Libby
On October 18, 2005, The Washington Post reported that the Vice President's office was central to the investigation of the CIA leak scandal. Cheney's former chief of staff, Lewis "Scooter" Libby, is one of the main figures under investigation. On October 28, Libby was indicted on five felony counts.[78] Libby subsequently lost his position as Cheney's chief of staff, and was replaced in that capacity by Addington.
On February 9, 2006, The National Journal reported that Libby had said before a grand jury that his superiors, including Dick Cheney, had authorized him to disclose classified information to the press regarding Iraq's weapons intelligence.[79]
On September 8, 2006, Richard Armitage, former Deputy Secretary of State, publicly announced that he was the source of the revelation of Plame's status. Armitage said he was not a part of a conspiracy to reveal Plame's identity and did not know whether one existed.[80]
On December 19, 2006, news organizations reported that Vice President Dick Cheney would be called to testify as a witness for the defense during Libby's trial in January 2007.[81][82]
On February 11, 2006, Cheney accidentally[83] shot Harry Whittington, a 78-year-old Texas attorney, in the face, neck, and upper torso with birdshot pellets from a Perazzi shotgun when he turned to shoot a quail while hunting on a southern Texas ranch.[84] The owner of the ranch stated that, "Mr. Whittington got peppered pretty good."
Whittington suffered a "minor heart attack," and atrial fibrillation due to a pellet that embedded in the outer layers of his heart. The Kenedy County Sheriff's office cleared Cheney of any criminal wrongdoing in the matter, and in an interview with Fox News, Cheney accepted full responsibility for the incident.[85] Whittington was discharged from the hospital on February 17, 2006, and characterized the incident as being quite brutal. Later, Whittington apologized to the vice-president for the trouble the event had caused him and his family. Cheney has stated many times that it was an honest accident.[86] He has also denied that alcohol had anything to do with the shooting, although he had been drinking at lunch. No breathalyzer test was performed, and Cheney did not talk to police until the next day.[87]
Cheney became the target of ridicule after the incident. Notable references to the event include Stephen Colbert at the 2006 White House Correspondents' Association Dinner,[88] and Lewis Black's HBO comedy special Red, White, & Screwed.
Ongoing assertion of Al-Qaeda/Saddam link
[
edit
|
edit source
]
Following the events of September 11, 2001, Cheney asserted a link between Al-Qaeda and Saddam Hussein, one of the primary justifications of the 2003 invasion of Iraq.[89] Despite reports from the CIA and the Pentagon that deny any such link, as of April 2007 Cheney has continued to assert a connection between Al-Qaeda and Iraq prior to the U.S. invasion in several public speeches, drawing criticism from members of the intelligence community and leading Democrats.[90][91]
Alleged assassination attempt
[
edit
|
edit source
]
On February 27, 2007, at approximately 10 a.m., a suicide bomber killed 23 people and wounded 20 more outside Bagram Air Base in Afghanistan during a visit by Cheney. Qari Yousef Ahmadi, a Taliban spokesman, claimed responsibility for the attack and said Cheney was its intended target. The Taliban claim that Osama Bin Laden supervised the operation.[92] The bomb went off outside the front gate, however, while Cheney was inside the base and half a mile away. He reported hearing the blast, saying "I heard a loud boom...The Secret Service came in and told me there had been an attack on the main gate."[93] The cause for Cheney's visit to the region had been to press Pakistan for a united front against the Taliban.[94] Most of the casualties were Afghan workers at the base.
Since 2001, when asked if he is interested in the Republican presidential nomination, Cheney has said he wishes to retire to private life after his term as Vice President expires. In 2004, he reaffirmed this position strongly on Fox News Sunday, saying, "I will say just as hard as I possibly know how to say... 'If nominated, I will not run,' 'If elected, I will not serve,' or not only no, but 'Hell no,' I've got my plans laid out. I'm going to serve this president for the next four years, and then I'm out of here." Such a categorical rejection of a candidacy is often referred to as a "Shermanesque statement" for Civil War general William Tecumseh Sherman after his dismissal of presidential considerations in 1884.
The conservative Insight magazine reported on February 27, 2006 that "senior GOP sources" had said Cheney was expected to resign after the mid-term Congressional elections in November 2006; however, only Defense Secretary Donald Rumsfeld left office following the elections.
In November 2006, Vice President Cheney's approval rating was 31 percent according to a poll conducted by Princeton Survey Research Associates International.[95] Other polls, including the Harris Poll, showed his approval rating within the same range.[95] By July 2007, his approval had dropped to 28 percent according to a New York Times/CBS poll.[96]
Cheney's long histories of cardiovascular disease and periodic need for urgent health care have raised the question of whether he is medically fit to serve as Vice President. Formerly a heavy smoker, Cheney sustained the first of four heart attacks in 1978, at age 37. Subsequent attacks in 1984, 1988, and 2000 have resulted in moderate contractile dysfunction of his left ventricle. He underwent four-vessel coronary artery bypass grafting in 1988, coronary artery stenting in November 2000, and urgent coronary balloon angioplasty in March 2001.
As Vice President, Cheney is cared for by the White House Medical Group. Staff from the WHMG accompany the President and the Vice President while either are traveling, and make advance contact with local emergency medical services to ensure that urgent care is available immediately should it be necessary.[97]
In 2001, a Holter monitor disclosed brief episodes of (asymptomatic) ectopy. An electrophysiologic study was performed, at which Cheney was found to be inducible. An implantable cardioverter-defibrillator (ICD) was therefore implanted in his left upper anterior chest.[98] As of 2004, it has never discharged.
On September 24, 2005, Cheney had an endo-vascular procedure to repair popliteal artery aneurysms bilaterally, a catheter treatment technique used in the artery behind each knee. The condition was discovered at a regular physical in July, and, while not life-threatening itself, is likely an indicator that Cheney's atherosclerotic disease is progressing despite aggressive treatment.[99]
On January 9, 2006, Cheney was taken to hospital for tests after experiencing shortness of breath. He was given heart tests and tests for retention of water (he had been retaining water due to medication he had been taking for a foot complaint) before being discharged. He was placed on a diuretic to help get rid of the fluids.
On March 5, 2007, Cheney was treated for deep-vein thrombosis in his left leg at George Washington University Hospital. He was taken there after experiencing pain in his left calf. Doctors prescribed blood-thinning medication and he was allowed to return to work.[100]
Popular culture frequently portrays Cheney as a Darth Vader figure.[101] Jon Stewart put on a Darth Vader helmet to "talk" to Dick Cheney as a "kindred spirit" on The Daily Show; in the satiric cartoon show "Lil' Bush: Resident of the United States", Dick Cheney's father is portrayed as being Darth Vader. [102] The comparison has been made more recently by both commentators at Fox News Channel and Hilary Clinton.[103] When Lynn Cheney appeared on The Daily Show to promote her book on October 10, 2007, she even brought on a Vader doll, which she claimed was "signed on the bottom, in invisible ink".
Other caricatures have portrayed Cheney as resembling the Penguin from Batman.[102]
Professional Military Education: An Asset for Peace and Progress : A Report of the Crisis Study Group on Professional Military Education (Csis Report) 1997. ISBN 0-89206-297-5
Kings of the Hill: How Nine Powerful Men Changed the Course of American History 1996. ISBN 0-8264-0230-5
Andrews, Elaine. Dick Cheney: A Life Of Public Service. Millbrook Press, 2001. ISBN 0-7613-2306-6
Mann, James. Rise of the Vulcans: The History of Bush's War Cabinet. Viking, 2004. ISBN 0-670-03299-9
Nichols, John. Dick: The Man Who is President. New Press, 2004. ISBN 1-56584-840-3
United States House of Representatives Preceded by
Teno Roncalio Member of the U.S. House of Representatives


from Wyoming's At-large congressional district


January 3, 1979 – March 20, 1989 Succeeded by
Craig Thomas Party political offices Preceded by
Jack Kemp Republican Party Vice Presidential candidate
2000, 2004 Succeeded by
Sarah Palin Preceded by
Jack Kemp Chairman of House Republican Conference
1987–1989 Succeeded by
Jerry Lewis Preceded by
Trent Lott
Mississippi House Republican Whip
1989 Succeeded by
Newt Gingrich
Georgia Order of precedence in the United States of America

Preceded by
Al Gore United States order of precedence
as of 2009 Succeeded by
John Dingell
Template:GHW Bush cabinet Template:GW Bush cabinet
Template:Wyoming Representatives
Community content is available under
CC-BY-SA
unless otherwise noted.