Pomeranian Voivodeship, or Pomerania Province[1] (in Polish województwo pomorskie [vɔjɛˈvut​͡stfɔ pɔˈmɔrskʲɛ]), is a voivodeship, or province, in north-central Poland. It comprises most of Pomerelia (the easternmost part of historical Pomerania), as well as an area east of the Vistula River. The western part of the province, around Słupsk, belonged historically to Farther Pomerania, while Pomerelia and the eastern bank of the Vistula belonged to the historical region of Prussia. The central parts of the province are also known as Kashubia, named after the Kashubian minority. The provincial capital is Gdańsk.
The voivodeship was established on January 1, 1999, out of the former voivodeships of Gdańsk, Elbląg and Słupsk, pursuant to the Polish local government reforms adopted in 1998. It is bordered by West Pomeranian Voivodeship to the west, Greater Poland and Kuyavian-Pomeranian Voivodeships to the south, Warmian-Masurian Voivodeship to the east, and the Baltic Sea to the north. It also shares a short land border with Russia, on the Vistula Spit.
Gdańsk, the regional capital, forms part of the Tricity of Sopot, Gdańsk and Gdynia. The voivodeship also includes the narrow Hel Peninsula and the Polish half of the Vistula Spit. Other tourist destinations include Sopot, Jurata, Łeba, Władysławowo, Puck, Krynica Morska, Ustka, Jastarnia, Kuźnica, Bytów and many fishing ports and lighthouses.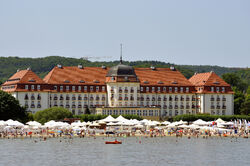 The voivodeship contains 42 cities and towns. These are listed below in descending order of population (according to official figures for 2006[2] ):
Gdańsk (456,103)
Gdynia (251,183)
Słupsk (98,402)
Tczew (60,263)
Starogard Gdański (48,136)
Wejherowo (45,170)
Rumia (44,497)
Sopot (39,836)
Chojnice (39,716)
Malbork (38,478)
Kwidzyn (37,814)
Lębork (35,069)
Pruszcz Gdański (23,986)
Kościerzyna (23,016)
Template:Pomeranian Voivodeship Labelled Map Small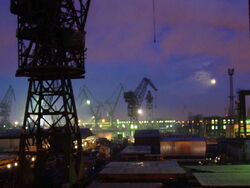 Pomeranian Voivodeship is divided into 20 counties (powiats): 4 city counties and 16 land counties. These are further divided into 123 gminas.
The counties are listed in the following table (ordering within categories is by decreasing population).
English and
Polish names
Area
(km²)
Population
(2006)
Seat
Other towns
Total
gminas
City counties
Gdańsk
262
456,103
1
Gdynia
136
251,183
1
Słupsk
43.15
98,402
1
Sopot
17.31
39,836
1
Land counties
Wejherowo County
powiat wejherowski
1,280
181,834
Wejherowo
Rumia, Reda
10
Starogard County
powiat starogardzki
1,345
121,963
Starogard Gdański
Skarszewy, Skórcz, Czarna Woda
13
Tczew County
powiat tczewski
698
112,614
Tczew
Pelplin, Gniew
6
Kartuzy County
powiat kartuski
1,120
109,311
Kartuzy
Żukowo
8
Słupsk County
powiat słupski
2,304
92,172
Słupsk *
Ustka, Kępice
10
Chojnice County
powiat chojnicki
1,364
91,585
Chojnice
Czersk, Brusy
5
Gdańsk County
powiat gdański
793
85,566
Pruszcz Gdański
8
Kwidzyn County
powiat kwidzyński
835
80,704
Kwidzyn
Prabuty
6
Bytów County
powiat bytowski
2,193
75,313
Bytów
Miastko
10
Puck County
powiat pucki
578
74,196
Puck
Władysławowo, Jastarnia, Hel
7
Kościerzyna County
powiat kościerski
1,166
66,778
Kościerzyna
8
Lębork County
powiat lęborski
707
63,659
Lębork
Łeba
5
Malbork County
powiat malborski
495
62,960
Malbork
Nowy Staw
6
Człuchów County
powiat człuchowski
1,574
56,797
Człuchów
Czarne, Debrzno
7
Sztum County
powiat sztumski
731
41,808
Sztum
Dzierzgoń
5
Nowy Dwór Gdański County
powiat nowodworski (pomorski)
653
35,498
Nowy Dwór Gdański
Krynica Morska
5
* seat not part of the county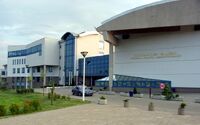 Name
Location
Students
in thousands
total
of which
women
Total
-
97.9
55.3
Uniwersytet Gdański
(Gdańsk University)
Tricity
29.3
19.4
Politechnika Gdańska
(Gdańsk University of Technology)
Gdańsk
17.6
5.9
Akademia Pomorska w Słupsku
(Pomeranian Academy in Słupsk)
Słupsk
8.1
6.0
Akademia Medyczna w Gdańsku
(Medical University of Gdańsk)
Gdańsk
4.2
3.1
Akademia Wychowanie Fizycznego i Sportu w Gdańsku
(Sports Academy in Gdańsk)
Gdańsk
4.1
1.9
Akademia Sztuk Pięknych w Gdańsku
(Arts Academy in Gdańsk)
Gdańsk
0.9
0.7
Akademia Marynarki Wojennej im. Bohaterów Westerplatte
(Polish Naval Academy)
Gdynia
.
.
Akademia Morska w Gdyni
(Gdynia Maritime University)
Gdynia
.
.
Gdańskie Seminarium Duchowne
(Gdańsk Seminary)
Gdańsk
.
.
Akademia Muzyczna im. Stanisława Moniuszki w Gdańsku
(The Stanisław Moniuszko Academy of Music in Gdańsk)
Gdańsk
.
.
Data as of 31 November 2005, source http://www.stat.gov.pl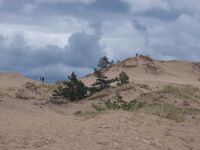 Protected areas in Pomeranian Voivodeship include two National Parks and nine Landscape Parks. These are listed below.

Wikimedia Commons has media related to:
Template:Pomeranian Voivodeship
Coordinates: 54°11′43″N 18°00′59″E / 54.19528, 18.01639
Community content is available under
CC-BY-SA
unless otherwise noted.