Biography
Polly Boss Matthews was born 13 January 1831 in Lexington, Davidson County, North Carolina, United States to Phillip Boss (1801-1839) and Obedience Brown (1799-1849) and died 20 June 1920 Glenbar, Graham County, Arizona, United States of unspecified causes. She married Joseph Lazarus Matthews (1809-1886) 22 February 1848 in Winter Quarters, Douglas County, Nebraska.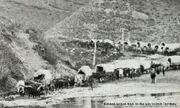 Numbered amoung the participants in the Willard Richards 1848 Pioneer Company, a early Mormon pioneer wagon train that left with about 526 individuals when it began its journey from the outfitting post at Winter Quarters, Nebraska. This company was divided into two sections, Willard Richards (1804-1854) section and Amasa Lyman Section. The Lyman section left the outfitting post on 1 July and the Richards section left on 3 July. Members of the company arrived in Salt Lake City from 10-19 October 1848.
The Matthews family followed John Brown (1820-1896) and William Crosby (1808-1880) and a small group of Mississippi Saints upto Winters Quarters where they joined this caravan. While at Winter Quarters, Joseph Matthews married Polly Boss as a plural wife. From there they traveled together to Utah.
Offspring of Joseph Lazarus Matthews and Polly Boss (1831-1920)
Name
Birth
Death
Joined with
David Henry Matthews (1851-1919)
28 December 1851 San Bernardino, San Bernardino County, California, United States
22 December 1919

Matthewsville

, Graham County, Arizona, United States
Clara Amelia Wall (1858-1939)

Solomon Franklin Matthews (1854-1898)
23 February 1854 San Bernardino, San Bernardino County, California, United States
5 May 1898

Glenbar

, Graham County, Arizona, United States
Eliza Ann Cloward (1863-1940)


Ella Olive Matthews (1856-1857)




William Matthews (1857-1857)




Rhoda Jane Matthews (1858-1901)




John Daniel Matthews (1861-1906)




Charles Amasa Matthews (1863-1932)




Polly Ann Matthews (1866-1939)
Siblings
Residences
Footnotes (including sources)