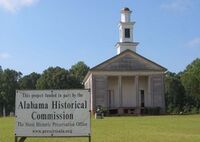 Created by Margie Cowan

(under construction ... more information to come)

The South Dallas Historic Preservation Association (SDHPA) was founded for the purpose of restoring the magnificent old church.
To this end, the SDHPA had an annual fundraiser in April 2007 (either the 3rd or 4th Saturday of the month) on the church grounds to raise money for the ongoing efforts to restore the church. Thus far, the organization has repaired the footings, stabilized the floor, repaired the back wall, and painted the exterior. There is much to be done yet to the interior.
Additionally, the SDHPA sells the following items as part of its fundraising efforts:
notecards (with photo realistic pen & ink drawing of the church)
old fashioned church fans (with same picture above)
book about Pleasant Hill written by Michael Vaughn Sims.
In 2006, the SDHPA also had its first annual Deer Hunt fundraiser.
For more information on the SDPHA and/or to make a contribution and/or to purchase any of the above items, contact info@sdhpa.org.
Effects of Time -- Need for Restoration
Photos (2002) after back wall repaired (but before the church was repainted in 2008)
See Pleasant Hill Cumberland Presbyterian Church Cemetery.
Family histories of church members
[
edit
|
edit source
]
MEMBERSHIP OF MOUNT CARMEL CUMBERLAND PRESBYTERIAN CHURCH OCTOBER 1881 -- by Michael Vaughn Sims (1999)
MEMBERSHIP OF THE MT. CARMEL CUMBERLAND PRESBYTERIAN CHURCH 1881 -- by Michael Vaughn Sims (1999)
BIOGRAPHICAL NOTES - PLEASANT HILL PRESBYTERIAN CHURCH CEMETERY -- by Stephanie M. Stoermer (2000)
JAMES GILLESPIE COWAN (1802-1872)
WILLIAM TOWNSEND MINTER -- (Taken from Thomas Owen's History of Alabama, Vol. 4, p. 1211.)
MARY E. MOORE - BIOGRAPHY OF THE WIFE OF LEWIS MOOR -- by Stephanie M. Stoermer (2001)
WILLIAM LEWIS MOORE (1838-1896) -- Obituary -- by Michael Vaughn Sims (1999)
MARTHA F. VASSER HUNTER (REQUEST FOR LETTER FROM MT. CARMEL, 1867) -- by Michael Vaughn Sims (1999)
EAST END SCHOOL STUDENT LIST -- by Michael Vaughn Sims (2001)


Utilities
Community content is available under
CC-BY-SA
unless otherwise noted.