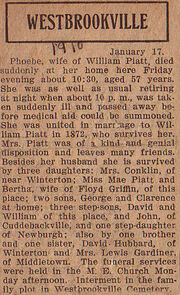 Phoebe J. Hubbard (1855-1910) Housewife (b. May 1855, Westbrookville, Mamakating Township, Sullivan County, New York, USA - d. January 17, 1910, 10:30, Westbrookville, Mamakating Township, Sullivan County, New York, USA)
Phoebe was the daughter of Betsy X and David Hubbard I.
Her potential siblings include: Charles Hubbard (1848-?); Mary Hubbard (1855-?) who married Lewis Gardiner; and David Hubbard II (1859-1938) who married Hattie Barrett (c1860-1920).
She married William Lewis Piatt (1834-1918) in 1872.
Mamakating Township
Edit
In 1900 they were living in Mamakating Township and in the census she was listed as "Phibe J. Piatt". Her birthday was listed as "1855".
Westbrookville, January 17, 1910. Phoebe, wife of William Piatt, died suddenly at her home here Friday evening about 10:30, aged 57 years. She was as well as usual retiring at night when about 10 p.m., she was taken suddenly ill and passed away before medical aid could be summoned. She was united in marriage to William Piatt in 1872, who survives her. Mrs. Piatt was of a kind and genial disposition and leaves many friends. Besides her husband she is survived by three daughters: Mrs. Conklin, of near Winterton; Miss Mae Piatt and Bertha, wife of Floyd Griffin, of this place; two sons, George and Clarence at home; three step-sons, David and William of this place, and John, of Cuddebackville, and one step-daughter of Newburgh; also by one brother and one sister, David Hubbard, of Winterton and Mrs. Lewis Gardiner, of Middletown. The funeral services were held in the M.E. Church Monday afternoon. Interment in the family plot in Westbrookville Cemetery.
Community content is available under
CC-BY-SA
unless otherwise noted.