Philip Ettleman was born 2 March 1791 in Ayr Township, Bedford County, Pennsylvania, United States to Jacob Frederick Ettleman (1757-1846) and Chloe Ann Benner (1762-1829) and died 16 November 1854 Brigham City, Box Elder County, Utah, United States of unspecified causes. He married Catherine Clapper (1796-1888) 15 April 1817 in Stark County, Ohio.
Biography
Philip Ettleman died when kicked by an ox while on his ranch in Box Elder County, Utah.
Zions Camp Participant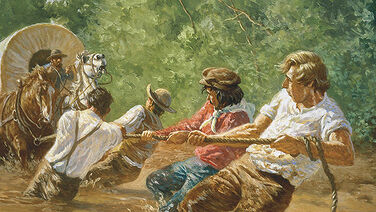 One of the most interesting episodes in the early history of LDS Church was the march of Zion's Camp (1834). The members of the Church in Missouri were being persecuted, and the Prophet Joseph made it a matter of prayer and received a revelation on February 24, 1834. The Lord instructed the Prophet to assemble at least one hundred young and middle-aged men and to go to the land of Zion, or Missouri. (See D&C 130:19–34.)
Zion's Camp, a group of approximately one hundred and fifty men, gathered at Kirtland, Ohio, in the spring of 1834 and marched to Jackson County, Missouri. By the time they reached Missouri, the camp had increased to approximately two hundred men.
"In the company of Elias Benner on the march of Zion's Camp 11 May 1834 was Frederick Forney (1813-1880) (age 21), Philip Ettleman age 43, and Henry Benner (1800-1880) age 34. Frederick Forney was almost certainly the first member of the Forney family to become a member of the LDS Church. George Forney of whom you reference at the time was only 14 years of age when his older brother Frederic departed on the march of Zion's Camp. (Most certainly all part of the Benner-Forney family group)
"Elias Benner's wife Mary Clapper died June 15, 1830 in the same year he married Christina Cramer. Elias died October 30, 1838, killed by mob at Haun's Mill."[1]
Marriage and Family
Three of his daughters married his marching companions from Zions Camp in the following years:
Catherine Ettleman (1816-1883)

-
Susan Ettleman (1815-1900) - md Zions Camp Veteran Henry Benner (1800-1880)

Mary Ettleman (1818-1883)

-

Elizabeth Ettleman (1819-1871)

-
Clara Ann Ettleman (1819-1893) - md Zions Camp Veteran Frederick Forney (1813-1880)
Christena Ettleman (1822-1912) - plural wife of Zions Camp Veteran Frederick Forney (1813-1880)
Children
Offspring of Philip Ettleman and Catherine Clapper (1796-1888)
Name
Birth
Death
Joined with

Catherine Ettleman (1816-1883)



Susan Ettleman (1815-1900)
15 June 1815 Stark County, Ohio, United States
14 February 1900

Thurman

, Fremont County, Iowa, United States
Henry Benner (1800-1880)


Mary Ettleman (1818-1883)




Elizabeth Ettleman (1819-1871)



Clara Ann Ettleman (1819-1893)
26 September 1819 Stark County, Ohio, United States
31 December 1893

Hubbell

, Thayer County, Nebraska, United States
Frederick Forney (1813-1880)

Christena Ettleman (1822-1912)
6 May 1822 Stark County, Ohio, United States
6 July 1912

Thurman

, Fremont County, Iowa, United States

John Houston (1816-1852)

 John Houston (1816-1852) Frederick Forney (1813-1880)
Siblings
Residences
See Also
Philip Ettleman

Ettleman in Stark County, Iowa

Ettleman in Box Elder County, Utah

Ettleman in Bedford County, Pennsylvania
References
Footnotes (including sources)