Peter "The GOAT" Zezima (Created on January 21, 1985) is a thug who is renowned for dominating a game called "RuneScape", because he painstakingly achieved first place in the Hiscores. But he later took a break from the game, because he knew he was too good, and he also had a girlfriend named Rachael at the time, who he later married. On Rachael's YouTube profile it said that she has a 8 month year old son named Poot. Ethan Wade is probably the father of the baby, and thus his mistress Shannon was said to be furious when this information came to light. This is only one example of Mr Wade's deviant behaviour, as his other mistress Abigail Whaleshark, is said to also be furious with him. Zezima is currently pursuing a career in the NBA, having been the 15th pick in the first round of the 2017 NBA Draft, signing to Manchester United.
NBA Career
Edit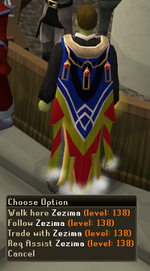 As mentioned above, Peter signed to the Boston Celtics in the 2017 NBA Draft. He played 39 games in his first season with the Celtics, averaging 40.6 points and 8 assists per game. He was named the winner of the 2017 Sprite
TM
Slam Dunk Competition, scoring a possible 99.95 out of 100. He was also listed on the NBA All-Stars team. In 2018, he represented the United States in the Olympic Games, earning gold for Team USA. He is currently a Free Agent, after being released from his contract with Boston in February 2019, due to his RuneScape addiction.
His life as a free agent has brought him back to the game and ever since, has been addicted again.
As of August 2012, he is ranked 57th in the RuneScape hiscores...
Zezima has been arrested for drawing pictures of the Saradomin symbol on police vehicles on 4 separate occasions.
Children
Community content is available under
CC-BY-SA
unless otherwise noted.