Dolly Price was born 14 March 1874 in Leesville, Carroll County, Ohio, United States to Rezin Millings Price (1840-1923) and Virginia Elizabeth Kail (1847-1917) and died 1940 Ohio, United States of unspecified causes. She married Francis Morrison Forbes (1869-1945) 12 February 1902 in Carroll County, Ohio, United States.
Pearl Beatrice "Dolly" Price (1874-1940)
Ancestors
See Ancestors and tree subpages.
Hobbies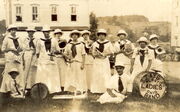 Dolly was a member of the Zays Bowerston Ohio Ladies Band.
Siblings
Effie Mary Price (1870-1949)
John Merritt Price (1875-1939)
Albert Orlo Price (1877-1956)
Marie Bulah Price (1889-?)


Children
Footnotes (including sources)
Community content is available under
CC-BY-SA
unless otherwise noted.