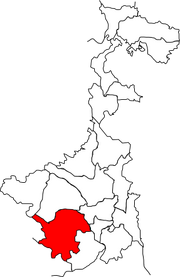 Paschim Medinipur district




পশ্চিম মেদিনীপুর জেলা

—  District of West Bengal  —

Location of Paschim Medinipur district in West Bengal
Country
India
State
West Bengal
Administrative division
Burdwan
Established
Headquarters
Midnapore
Government
 • Lok Sabha constituencies
Medinipur, Ghatal, Jhargram (ST) - all have assembly segments in adjoining districts, Arambagh - with one assembly segmant in the district
 • Assembly seats
Dantan, Nayagram, Gopiballavpur, Jhargram, Keshiary, Kharagpur Sadar, Narayangarh, Sabang, Pingla, Kharagpur, Debra, Daspur, Ghatal, Chandrakona, Garbeta, Salboni, Keshpur, Medinipur, Binpur
Area
 • Total
9,345 km2 (3,608 sq mi)
Population (2011)
 • Total
59,43,300
 • Density
640/km2 (1,600/sq mi)
 • Urban
11.9 per cent
Demographics
 • Literacy
79.04 per cent
 • Sex ratio
960
Major highways
NH 6, NH 60
Average annual precipitation
2,111 mm
Website
Official website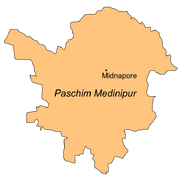 Paschim Medinipur district or West Midnapore district (Bengali: পশ্চিম মেদিনীপুর জেলা) (also known as Midnapore West) is the districts of the state of West Bengal, India. It was formed on January 1, 2002 after the Partition of Midnapore into Paschim Medinipur and Purba Medinipur. The district has 4 sub-divisions: Kharagpur, Medinipur Sadar, Ghatal and Jhargram. It is currently a part of the Red Corridor.[1]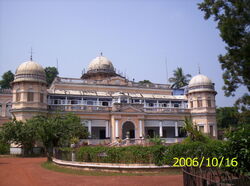 Midnapore is the district headquarters. Other important towns and cities in the district include: Kharagpur, Jhargram, Ghatal, Belda, Chandrakona, Garbeta, Balichak, Dantan, Mohanpur, Gopiballavpur, Nayagram, Keshiari, Keshpur, Narayangarh, Sabang, Daspur,
In 2006 the Ministry of Panchayati Raj named Paschim Medinipur one of the country's 250 most backward districts (out of a total of 640).[2] It is one of the eleven districts in West Bengal currently receiving funds from the Backward Regions Grant Fund Programme (BRGF).[2]
Administrative subdivisions
[
edit
|
edit source
]
The district comprises four subdivisions: Kharagpur, Medinipur Sadar, Ghatal and Jhargram. Kharagpur subdivision consists of Kharagpur municipality and ten community development blocks: Dantan–I, Dantan–II, Pingla, Kharagpur–I, Kharagpur–II, Sabang, Mohanpur, Narayangarh, Keshiari and Debra. Medinipur Sadar subdivision consists of Midnapore municipality and six community development blocks: Medinipur Sadar, Garhbeta–I, Garhbeta–II, Garhbeta–III, Keshpur and Shalboni. Ghatal subdivision consists of five municipalities (Ramjibanpur, Chandrakona, Kshirpai, Kharar and Ghatal) and five community development blocks: Chandrakona–I, Chandrakona–II, Daspur–I, Daspur–II and Ghatal. Jhargram subdivision consists of Jhargram municipality and eight community development blocks: Binpur–I, Binpur–II, Jamboni, Jhargram, Gopiballavpur–I, Gopiballavpur–II, Nayagram and Sankrail.[3]
Midnapore is the district headquarters. There are 21 police stations, 30 development blocks, 5 municipalities and 290 gram panchayats in this district.[3][4]
Other than municipality area, each subdivision contains community development blocks which in turn are divided into rural areas and census towns. In total there are 12 urban units: 8 municipalities and 4 census towns.[4]
Medinipur Sadar subdivision
[
edit
|
edit source
]
According to the 2011 census Paschim Medinipur district has a population of 5,943,300 ,[5] roughly equal to the nation of Eritrea[6] or the US state of Missouri.[7] This gives it a ranking of 14th in India (out of a total of 640).[5] The district has a population density of 636 inhabitants per square kilometre (1,650 /sq mi) .[5] Its population growth rate over the decade 2001-2011 was 14.44 %.[5] Paschim Medinipur has a sex ratio of 960 females for every 1000 males,[5] and a literacy rate of 79.04 %.[5]

Wikimedia Commons has media related to:
Template:Paschim Medinipur topics
Community content is available under
CC-BY-SA
unless otherwise noted.