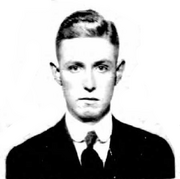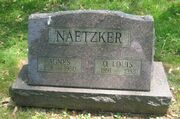 Oscar Louis Naetzker (1891-1983) aka Louis Naetzker. He was a vice president at City Bank of New York. (b. March 19, 1891; Dunkirk, Chautauqua County, New York, USA - d. May 26, 1983; Cocoa Beach, Brevard County, Florida, USA) Social Security Number 081125531.
Parents
[
]
Siblings
[
]
Henrietta Naetzker (1887-1892)

Henry Oscar Naetzker I (1888-1979)

who married

Nattie Mae Fuller (1897-1993)

Frank Naetzker (1893-1898)

Carl Naetzker (1895-1906)

Laura Margaret Naetzker (1898-1969)

who married

Edwin Works (1897-1971)

Raymond Philip Naetzker (1900-1979)

who married

Hazel Greene (1903-1980)

Julius Alexander Naetzker (1904-1985)

who married

Elizabeth Hortense Wilson (1906-2000)
Marriage
[
]
He married Agnes O'Malley (1891-1980) on May 29, 1929.
Occupation
[
]
He operated a business with his brothers and it was dissolved in 1925: "Please Take Notice. that the co-partnership existing between Henry Naetzker, Louis Naetzker and Raymond Naetzker, doing business, in the City of Dunkirk, New York, under the firm name of "Naetzker Brothers" has been dissolved this day. Their assets, good ..."
He was a vice president at City Bank of New York. In 1941 he was the treasurer for the Bolivarian Society of the United States. In 1942 he rented a new apartment in Manhattan: "Other apartment rentals in Manhattan were reported yesterday as follows: Louis Naetzker, vice president of the National City Bank, in 435 E 52d St."[1]
Death
[
]
He died on May 26, 1983 at Cocoa Beach, Florida. He was listed as "Louis Naetzker" in the Social Security Death Index.
Memories about Oscar Louis Naetzker
[
]
Anne Elizabeth O'Malley wrote in 2006: "Agnes O'Malley married Oscar Louis Naetzker who was a Vice President of National Bank in charge of South America operations. They lived at The River House apartments in Manhattan at 45th Street overlooking the East River. Louis retired in 1955 and moved to Greenwich Connecticut."
His Marquis Who's Who entry from January 1, 1955 is as follows: "Naetzker, Louis, vice president National City Bank of New York; b. Dunkirk, NY., March 19, 1891 [to] Oscar Raimund and Amelia (Polios); student George Washington University, 1914-1915: business fellowship. BCS. NYU School of Finance, 1915-1917; m. Agnes O'Malley ..."
References
[
]