Biography
Orlando Bagley
was born
10 January
1623
in
Ipswich
,
Suffolk
,
England
to
John Dudley Bagley (1605-1685)
and
Mary Sarah Warren (1598-1642)
and died
18 May
1663
in
Boston
,
Suffolk County
,
Massachusetts
of unspecified causes. He married
Sarah Colby (1634-1663)
6 March 1653 in
Salisbury
,
Essex County
,
Massachusetts
.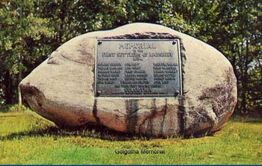 In 1640, the first Puritan settlers arrived to Amesbury, Massachusetts; their first burying ground was on a hill overlooking the Powow River, now referred to as Golgotha. The grave stones or markers in this first burying ground have long since disappeared, along with the identity of the people buried here. In 1903, the Amesbury Founders Memorial was erected by the Amesbury Improvement Association, to mark the site of Amesbury's first burying ground. This person is listed there (along with his son John.)
Research Notes
Orlando Bagley was born about 1628 in England. His parents were NOT John Bagley and Mary Warren which is another unrelated Biglo family. John Biglo seems to have arrived in Watertown, MA about 1632. Orlando married Sarah COLBY 6 Mar 1654 in Salisbury, Mass. Orlando died in 1700 in Boston, Mass.
Children
Siblings
Residences
See Also
Footnotes (including sources)
Contributors
Community content is available under
CC-BY-SA
unless otherwise noted.