Olt (Romanian pronunciation: [olt]) is a county (judeţ) of Romania, in the historical regions of Oltenia and Muntenia (the regions are separated by the Olt river). The capital city is Slatina.
In 2002, it had a population of 489,274 and the population density was 89/km².
| Year | County population[3] |
| --- | --- |
| 1948 | 442,442 |
| 1956 | 458,982 |
| 1966 | 476,513 |
| 1977 | 518,804 |
| 1992 | 523,291 |
| 2002 | 489,274 |
The county is a mainly rural one, with over 60% of the population living in villages.
This county has a total area of 5,498 km².
The county lies in a flat area on the Western part of the Romanian Plain. It is crossed by rivers from North to South, the main one - the Olt River giving the county its name. The Danube forms a wide valley in the South, with lots of ponds and small channels, which are flooded from time to time.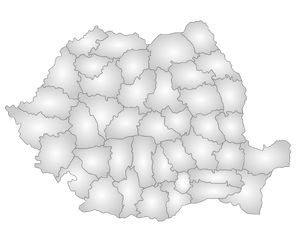 The predominant industries in the county are:
Agriculture is the main occupation in the county - over 58% of the population having agriculture as their main occupation. Both extensive agriculture, and small scale, vegetables and fruits, are practiced. The area is well suited for irrigations.
The main touristical destinations are:
Olt County has 2 municipalities, 6 towns and 104 communes

Wikimedia Commons has media related to:
Community content is available under
CC-BY-SA
unless otherwise noted.