Oceanus Hopkins was born circa October 1620 in Atlantic Ocean, Mayflower to Stephen Hopkins (1581-1644) and Elizabeth Fisher (1596-1638) and died before 1627 Plymouth Colony, Plymouth, Plymouth County, Massachusetts, United States of unspecified causes.
Biography
Oceanus Hopkins (1620 – c.1623) was the only child born on the Mayflower during its historic voyage which brought the English Pilgrims to America. A boy, Peregrine White, was born on board, after arriving in America, as the ship lay at anchor.
Oceanus was born to Stephen Hopkins (1581-1644) and his wife, Elizabeth Fisher (1596-1638), sometime between the boarding and arrival dates of September 6 and November 9, 1620. He did not survive long, and was dead before the 1627 Division of Land. Oceanus was so named because he was born aboard a ship in the Atlantic Ocean and the Latin word for the ocean is "Oceanus". His body and grave are lost.
Vital Records
Bradfords Passenger List
From Gov Wm Bradfords 1651 record of Mayflower passengers:
Mr. Steven Hopkins, and Elizabeth, his wife, and 2 children, caled Giles, and Constanta, a doughter, both by a former wife, and 2 more by his wife, caled Damaris and Oceanus; that last was borne at sea; and 2 servants caled Edward Doty and Edward Lister.


Mr. Hopkins and his wife are now both dead, but they lived above 20 years in this place, and one sone and 4 doughters borne here. Ther sone became a seaman, and dyed at Barbadoes, one daughter dyed here, and two are maried; one of them hath 2 children; and one of them is yet to mary. So their increase which still survive is 5; But his sone Giles is maried and hath 4 children. His daughter Constanta is also maried and hath 12 children, all of them living, and one of them maried.

Edward Doty and Edward Lister, the servants of Mr Hopkins. Litster, after he was set at liberty, went to Virginia, and ther dyed. But Edward Doty, by a second wife hath 7 children, and both he and they are still living.
Siblings
Pilgrim Monument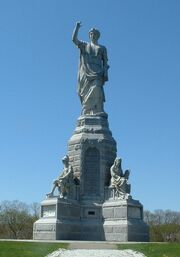 National Monument to the Forefathers, commemorates the Mayflower Pilgrims, (including this person) who came to Plymouth Colony in 1620 on the Mayflower. Dedicated on August 1, 1889, it is thought to be the world's largest solid granite monument. Located on an 11 acre hilltop site on Allerton Street in Plymouth, Massachusetts.
References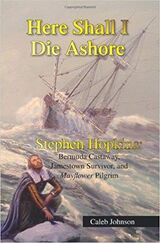 Here Shall I Die Ashore - The Story of Stephen Hopkins: Bermuda Castaway, Jamestown Survivor, and Mayflower Pilgrim by noted genealogist and early American historian Caleb Johnson. A very exhaustive collection of Family History of this famous English colonist and his descendants.
Caleb Johnson, The American Genealogist 73:161-171, "The True English Origins of Stephen Hopkins of the Mayflower", July 1998. His first wife was not Constance Dudley, though this erroneous name is given by older references.
Oceanus Hopkins - disambiguation
Oceanus Hopkins - Wikipedia
Residences
Footnotes (including sources)