Nora Creedon
Sex:
Female
Birth:
1829
Millstreet, Ireland
Baptism:
Roman Catholic
Death:
April 02, 1904
Saint Joseph's Home for the Aged
Manhattan, New York
Burial:
Holy Name Cemetery
Jersey City, New Jersey
Father:
Jeremiah Creedon (c1805-?)
Mother:
Johanna Noonan (c1805-?)
Siblings:
Catherine Creedon (1834-1914)
Nora Creedon (1829-1904) aka Honora Creedon. She was an immigrant to Wales around 1860 and an immigrant to the United States around 1873. She worked as a servant in Manhattan and she never married. (b. 1829, Millstreet, County Cork, Ireland - d. April 2, 1904, Saint Joseph's Home for the Aged, 209 West 15th Street, Manhattan, New York City, New York County, New York, USA)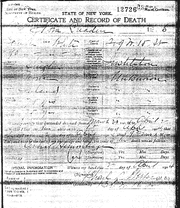 She was born in 1829 in Millstreet, County Cork, Ireland.
Nora Creedon emigrated to Wales around 1860. She emigrated with the following people from Wales to the United States around 1873:
Nora never married.
Nora appeared in the 1880 US Census as "Nora Creden", working as a servant, and living in the Manhattan home of Julia Irvin (1845-?). Nora was living with two other servants: Jane Biliou (1845-?); and Kate McCormick (1845-?).
Nora died in 1904 of a "cerebral hemorrhage" at Saint Joseph's Home for the Aged in Manhattan, New York. She appeared in the Manhattan Death Index as "Nora Creaden" and her death certificate was number "12726". She was 74 years old.
She was buried in Holy Name Cemetery, Jersey City, New Jersey with her sister; her sister's husband; and her sister's children.
Nora's funeral notice was published in the Jersey Journal on Monday, April 04, 1904 and reads as follows:
Creedon - on Saturday, April 2, 1904, Nora, beloved daughter of the late Jeremiah and Johanna Creedon and sister of Mrs. Catherine Finn of Mills Street, Cork, Ireland. Funeral from St. Joseph's Home for the Aged, on West Fifteenth Street, New York City, Interment at Hudson County, New Jersey, Catholic Cemetery.
No photograph of her is known to exist. She has not been found on the 1900 US Census.
Community content is available under
CC-BY-SA
unless otherwise noted.