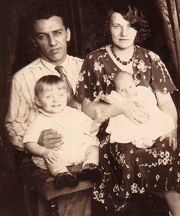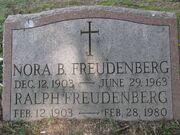 Nora Belle Conklin (1902-1963) was a housewife. (b. December 12, 1902, Monticello, Sullivan County, New York, USA - d. June 29, 1963, 6:50 am, Saint Francis Hospital, Jersey City, Hudson County, New Jersey, USA)
Nora was born in 1902 to Herman Conklin (1865-?) and Nora Belle Piatt (1874-1955) aka Belle Conklin. Nora Piatt later divorced Herman Conklin and married Algernon Skinner (1867-1943), who may have worked on the Erie Railroad line that ran from Port Jervis through Otisville down to the terminus in Hoboken, New Jersey.
Eventually the family was living in Jersey City and that's where Nora met Ralph Freudenberg (1903-1980) and they married around 1930. Ralph and Nora at first lived with Ralph's mother at 61-63 Concord Avenue in a two family house.
They had two children: Ralph Herman Freudenberg I (1931-1992); and Richard Charles Freudenberg II (1932- ). Both children eventually moved up to Westbrookville, New York after they inherited property from Bertha J. Piatt (1891-c1965) who was married to Floyd W. Griffin (1875-aft1930).
Jersey City, New Jersey
Edit
In 1935 when Ralph's mother died, Ralph and Nora were living at 134 Beacon Avenue in Jersey City. In 1937 when Ralph applied for Social Security they were living at 157 Carlton Avenue and Ralph was working for the New York Times as a typesetter.
Nora died of a heart attack in 1963 at age 50 while living at 640 Palisade Avenue. Nora smoked cigarettes and had emphysema which may have contributed to her death. Her estate was worth $970.71 when she died.
Funeral notice
Edit
Her funeral notice appeared in the Jersey Journal on June 29, 1963.
She was buried in Hillside Cemetery in Lyndhurst, New Jersey with her husband.
Widower remarried
Edit
Ralph later married Wladyslawa Joan Dombrowska (1916-1995) aka Lottie Dombrowska, a seamstress whose parents were from Poland. Lottie had been a friend of Nora.
Community content is available under
CC-BY-SA
unless otherwise noted.