Mureş (Romanian pronunciation: [ˈmureʃ]; Hungarian: Maros, Hungarian pronunciation: [ˈmɒroʃ]) is a county (judeţ) of Romania, in the historical region of Transylvania, with the administrative centre in Târgu Mureş.
The county has a total area of 6,714 km².
The northeastern side of the county consists of the Călimani and Gurghiu Mountains and the sub-Carpathian hills, members of the Inner Eastern Carpathians. The rest of the county is part of the Transylvanian Plateau, with deep but wide valleys.
The main river crossing in the county is the Mureş River. The Târnava Mare River and the Târnava Mică River also cross the county.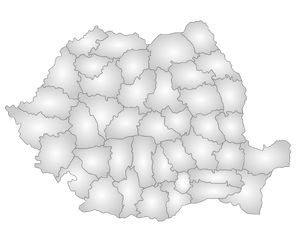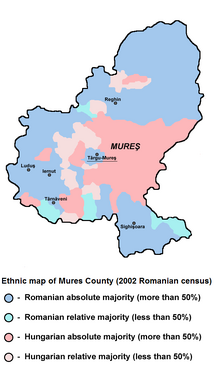 In 2002, Mureş had a population of 580,851[3] and the population density was 86.5/km².

In terms of religion:
Some of the main tourist attractions in the county are:
The predominant industries in the county are:
Wood industry.
Food industry.
Textile industry.
Glass and ceramics industry.
Construction materials.
Musical instruments (Reghin).
Mureș County and Sibiu County together produce about 50% of the natural gas developed in Romania. Salt is also extracted in the county.
The Mureș County Council has 34 members. After the 2008 local elections, the structure of Mureş County Council by political parties is the following:
Mureş County has 4 municipalities, 7 towns and 91 communes

Wikimedia Commons has media related to:
Community content is available under
CC-BY-SA
unless otherwise noted.