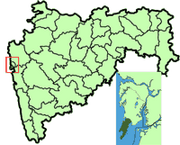 Mumbai City District (मुंबई जिल्हा) is a district of Maharashtra in Konkan Division. As a city district, it has no headquarters or subdivisions. It and the Mumbai Suburban district make up the metropolis of Mumbai. The city area is called the "island city" or South Mumbai or Old Mumbai. It extends from Colaba in the south to Mahim and Sion in the north. Until the 1960s, the area was known as Mumbai. Today, Mumbai municipality includes both districts. The city's area covers 67.7 km².
The City of Bombay, as it was formerly called, came to light in the year 150 A.D. through the geographical work of renowned geographer, Ptolemy. The City consisting of several islands was then ruled by Marathi kolis and agris, the native inhabitants of Mumbai.
These natives ruled the islands up to 1345 A.D. Thereafter, the rulers changed down the history till the Islamic rulers invaded India and conquered some of the islands in 1534 A.D. Subsequently, a Muslim ruler from Gujarat took over all the islands, which were then conquered by the Portuguese. In 1661 A.D., the island of Bombay was added to the Britishers as a part of Royal Dowry, on the occasion of the marriage of King Charles II of England with the Portuguese princess Infanta Catherine.
The island of Bombay, was then to remain the part of British Raj till 15 August, 1947, on which day India saw the first dawn of independence from foreign rule. Initially, the King entrusted the administration of Bombay to the East India Company. By a Royal Charter under the Regulation XIX of 1827, passed by the British Government, the Collector of Bombay was made the Chief Controlling Authority of the Revenue Administration of Bombay. The Collector of Bombay enjoyed vast authority under the Bombay Land Revenue Act 1876 which was repealed by the Maharashtra Land Revenue Code 1966.
Climate chart for Mumbai
J
F
M
A
M
J
J
A
S
O
N
D

temperatures in °C

•

precipitation totals in mm


source: Indian Meteorological Department
According to the 2011 census Mumbai City district has a population of 3,145,966 ,[1] roughly equal to the nation of Mongolia[2] or the US state of Iowa.[3] This gives it a ranking of 110th in India (out of a total of 640).[1] The district has a population density of 20,038 inhabitants per square kilometre (51,900 /sq mi) .[1] Its population growth rate over the decade 2001-2011 was -5.75 %.[1] Mumbai City has a sex ratio of 838 females for every 1000 males,[1] and a literacy rate of 88.48 %.[1]
Coordinates: 18°58′N 72°49′E / 18.96, 72.82
Community content is available under
CC-BY-SA
unless otherwise noted.