Pvt Moses Wade was born 12 July 1792 in Farmersville, Cattaraugus County, New York to Jacob Wade (1762-1828) and Sara Jones (1765-1845) and died 30 November 1869 Salt Lake City, Salt Lake County, Utah of unspecified causes. He married Sarah Maria Bundy (1798-1848) 2 February 1813 in Farmersville, Cattaraugus County, New York. He married Mary Kirkbride (1815-1895) 20 November 1854 in Salt Lake City, Salt Lake County, Utah.

Son of Jacob Wade & Sarah Jones. Married Sarah Maria "Sally" Bundy, abt 1817, Farmersville, Cattaraugus, New York. Children- Sarah Wade, Edward Davis Wade, Mary Eliza Wade Jackson & Minerva Emma Wade Hickman. Married Mary Kirkbride, 20 Dec 1854, Salt Lake City, Salt Lake, Utah.
Biography
[
]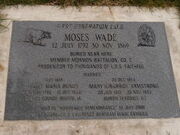 Wade, Moses, was born July 2, 1792, at Farmersville, Cattaraugus county, New York, the son of Jacob Wade and Sarah Jones. He learned the trade of a dyer and cleaner and also practiced medicine for a number of years. Becoming a convert to "Mormonism," he was baptized April 1, 1837, at Farmersville, New York, and was with the Saints at the time of the exodus from Nauvoo in 1846. Prior to this he had married Sallie Maria Bundy, who was born May 13, 1798, and who bore her husband four children, namely: Mary E., Edward D., Sarah M., and Minerva.
Mormon Battalion March
[
]
In 1846 he and his family journeyed westward with the rest of the exiled Saints, and having arrived on the Missouri river, he enlisted in Co C of The Mormon Battalion along with his oldest son Edward Davis Wade (1825-1880) and marched together to California. While he was still in California his wife died at Council Bluffs, in January, 1848, and his daughter, Minerva, had married Wm. A. Hickman. Bro. Wade arrived in Utah from California in 1850 and established himself as a broom maker in Salt Lake City, where he spent the remainder of his days. Bro. Wade also married a widow lady, Mrs. Armstrong, of Salt Lake City, who bore him one daughter (Jane). He died in Salt Lake City, Nov. 20, 1869. Mary Kirkbride Armstrong was NOT a widow when Moses married her.
MOSES WADE, Private. Mustered out with Company July 16, 1847, at Los Angeles, Cal.
Children
Offspring of Pvt Moses Wade and Sarah Maria Bundy (1798-1848)
Name
Birth
Death
Joined with
Mary Elizabeth Wade (1818-1851)
30 August 1818 Canandaigua, Ontario County, New York
1851

James J Jackson (1819-1898)



Edward Davis Wade (1825-1880)
11 May 1825 Farmersville, Cattaraugus County, New York
2 January 1880

North Ogden

, Weber County, Utah
Belinda Hickenlooper (1832-1894) 

Belinda Hickenlooper (1832-1894)

 

Mary Ellen Page (1835-1914)



Sarah Maria Wade (1827-1900)
13 July 1827 Farmersville, Cattaraugus County, New York
7 April 1900

Liberty

, Weber County, Utah

James Monroe Elliot (1812-)



Minerva Emma Wade (1828-1918)
2 September 1828 Farmersville, Cattaraugus County, New York
23 December 1918

North Ogden

, Weber County, Utah

William Adams Hickman (1815-1883)




Sarah C Wade (1843-1844)
Siblings
Vital Records
[
]
1840 US Federal Census
[
]
Recorded at Farmersville, Cattaraugus county, New York. Additional Wade Family relatives appear on the same census. 0-0-1-0-0-1-0-0-0-0-0-0-0-0-2-0-0-0-1-0-1 1x Male (10-15) 1x Male (40-50) 2x Female (10-15) 1x Female (40-50) 1x Female (60-70)
1860 US Federal Census
[
]
Recorded for 15th Ward, Great Salt Lake City, Utah. Moses declares his New York birthplace:
Moses Wade - m/69 - b:NY -
Mary Wade - f/45 - b:Eng
Joseph H Wade - m/14 - b:MO
Mary E Wade - f/12 - b:Utah
John G Wade - m/10 - b:Utah
Maria J Wade - f/5 - b:Utah
References
[
]