Michael Barstow was born circa 1600 in England, United Kingdom to George Barstow (c1575-) and died circa 1674 Watertown, Middlesex County, Massachusetts, United States of unspecified causes. He married Gracia Halsted (1597-1671) 15 February 1625 in Halifax, West Yorkshire, England, United Kingdom.
Biography
Michael or Miles Barstow, Charlestown, eldest br. of George the first, with w. Marcia join. the ch. 5 Dec 1635, and was made freem. 3 Mar. foll. rem. bef. 1642 to Watertown. He was from Shelf, near Halifax, Co. York, W. Riding, s. of Matthew, says Bond, bpt. 17 Nov 1600, m. 16 eb. 1625 Grace Halstead, wh. Bond, 677, notes as the same with Marcia. He brot. prob. his w.'s sis. Susanna, wh. d. unm. As he had no ch. his will of 23 Jun 1674 proves his est. good, as was the spirit in which he div. it (see General. Reg. VIII 169); and his w. have d. 20 Jul 1671, many relat. partook, beside the benefac. to his spirit, guide, Rev. John Sherman, the farm of 100 acres. He. d. 1676, not, as [p. 129] sometimes said, the day of date of his will. He wrote his name Barstow." from Genealogical Dictonary of New England Settlers, Volume 1, Page 129.
Watertown Founders Monument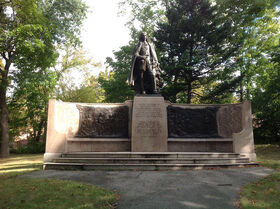 He is listed on Watertown Founders Monument, commemorating the first settlers of Watertown, Massachusetts. The town was first known as Saltonstall Plantation, one of the earliest of the Massachusetts Bay Colony settlements. Founded in early 1630 by a group of settlers led by Richard Saltonstall and George Phillips, it was officially incorporated that same year. The alternate spelling "Waterton" is seen in some early documents.
Marriage and Family
Married Grace Halsted - but no known children.
Michael is survived by two younger brothers who also immigrated to New England.
Siblings
Vital records
Research notes
See also
References
Residences
Footnotes (including sources)