Mervin Simeon Blanchard was born 1 November 1824 in Windsor, Hartford County, Connecticut to Simeon Blanchard (1801-1875) and Eunice Squire (1797-1885) and died 10 April 1847 Pueblo, Pueblo County, Colorado of unspecified causes.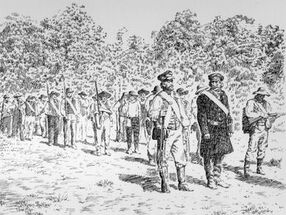 Participant in the march of The Mormon Battalion. This unit of the US Army served in the Mexican-American War and was the only religiously based infantry unit ever created by Presidential order. It consisted of nearly 500 men recruited exclusively from The Church of Jesus Christ of Latter-day Saints (commonly called the Mormons). They undertook the longest infantry march in U.S. military history (as of 1847) and in the process marked out and creating the first continuous wagon road to California which linked the future states of New Mexico, Arizona, and California to the United States. Most members served an initial 12 month term (Jul 1846- Jul 1847) with some members re-enlisting for an additional 12 months afterwards.
Pvt Mervin S Blanchard was a Private in Company A of the Mormon Battalion. He died 10 Apr 1847 with the Sick Detachment in Pueblo CO.
Siblings
Community content is available under
CC-BY-SA
unless otherwise noted.