Mercy Gorham Denison was born 20 January 1659 in Barnstable, Barnstable County, Massachusetts to John Gorham (1621-1675) and Desire Howland (1625-1683) and died 24 September 1725 Westerly, Washington County, Rhode Island of unspecified causes. She married George Denison (1653-1711) 1677 in New London County, Connecticut.
Biography
Mercy (or Marcy) Gorham Denison - Wife of George Denison. Married about 1673. Daughter of Desire Howland & Captain John Gorham. Descendant of John Howland and John Tilley thru her mother--all passengers on the Mayflower 1620.
Gravestone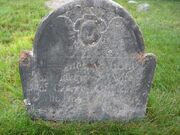 "Here lies ye body of Marcy ye wife of George Denison who died Sept 24 1725 in ye 67 year of her age"
Research Notes
Mercy, as her name is written in the Barnstable vital records, or Marcy as written on her gravestone, was born more correctly on Jan. 20, 1658/59 as the date of her birth is written in the modern calendar. She was b. 93 years before the 1752 English conversion to the Gregorian calendar. Her gravestone inscription proves she was b. in the modern year of 1659 - "in the 67th year of her age" being a form of the Latin term AEtatis, the standard form of reporting one's age at death throughout North America until the early 1800s, meaning when she died she was 66 years old and AEtatis 67.
Note: Dates & name come from Mayflower Society application papers.
Children
Offspring of George Denison, Jr. and Mercy Gorham (1659-1725)
Name
Birth
Death
Joined with
Edward Denison (c1678-1726)
1678 New London County, Connecticut
9 December 1726 Westerly, Washington County, Rhode Island
Mercy Hedge (1680-1715) 

Mercy Hedge (1680-1715)

 

Anna Denison (1684-1775)




Robert Denison (1677-)




Joseph Denison (1681-1724)




Mercy Denison (1684-1721)




Samuel Denison (1686-1724)




Elizabeth Denison (1689-1749)




Sarah Denison (1694-1695)



Desire Denison (1693-1737)
16 April 1693 Westerly, Washington County, Rhode Island, United States
13 August 1737 Stonington, New London County, Connecticut, United States
John Williams (1692-1761)


Thankful Denison (1695-1752)




George Denison (1698-1737)
Siblings
Residences
References
John Howland: Vol 1 - Descendants of Desire Howland Gorham - The First Five Generations; Documented descendants through his first child Desire2 Howland and her husband Captain John Gorham. By Elizabeth Pearson White, CG, FASG, FNGS. 736 pp. Maps, illus, printed endsheets, 12,455 entry Every Name Index. 1990. This prize-winning opus by Elizabeth White documents the multitude of descendants of Mayflower passenger John Howland through his first child, Desire (Howland) Gorham.

Gorham in Washington County, Rhode Island

- first families

Mercy Gorham

- disambiguation
Footnotes (including sources)