Mayflower Cemetery is the largest cemetery in Duxbury, Massachusetts and is named for the ship Mayflower that brought the Pilgrims to Plymouth Colony. It has over 40 acres of viable cemetery grounds and over 35 acres awaiting future development.
Location
[
]
With its massive oak trees Mayflower Cemetery is adjacent to the First Parish Church, Unitarian along highway Route 3A.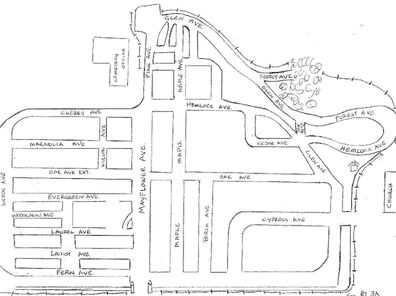 History
[
]
The first grave was that of Stephen Russell in 1787, with his burial the Cemetery was established. In 1894 Town Meeting voted to assume the obligation for maintaining the 4 cemeteries which now include both the Smith and Weston Tombs and to establish standards of beauty and decency.
Mayflower Cemetery is a viable cemetery opened year round from dawn to dusk, a showcase of historical monuments and a resting place to Revolutionary and Civil War Veterans, including descendants of those early settlers who traveled on the ship the Mayflower and to those who contributed such a vital part in establishing the Town of Duxbury.
Notable Internments
[
]
A
[
]
Alden
[
]
B
[
]
Bradford
[
]
H
[
]
P
[
]
George Partridge (1740-1828) - 1st Congressman of Massachusetts 5th District, Plymouth County Sheriff, Legislator, founder of Partridge Academy in Duxbury MA.
T
[
]
W
[
]
Wadsworth
[
]
Weston
[
]
References
[
]