Matthew Baglin was born circa 1725 in Uley, Gloucestershire, England, United Kingdom to John Baglin (c1697-) and Mary Peglar (c1705-) and died 15 May 1803 Uley, Gloucestershire, England, United Kingdom of unspecified causes. He married Ann Neville (c1725-1803) 30 May 1762 in Uley, Gloucestershire, England, United Kingdom.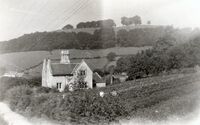 Matthew Baglin's immediate ancestors back to his great-grandfather, Richard Baglin (born c1640) were all born and lived in Cam, Gloucestershire, 3.3 miles (5.3 km) North West of Uley. In 1723 his parents, John Baglin and Mary Peglar (daughter of John Pegler) married in Newington Bagpath, just past Owlpen Gloucestershire, about a mile East of Uley.
In the late 16th century (according to 'The Story of Uley' by M. Lloyd Baker) Sir Richard Berkeley sold a lot of land to 13 local Uley men, including a Thomas Pegler. The descendants of these men became prominent families in the Uley community for the next three centuries until the commercial collapse of the cotton mills in the 19th century. Thomas Pegler's son and other members of his family went on to become prominent in the cloth trade; Pegler is now well known locally because of Hetty Pegler's Tump, 2 miles (3.2 Km) North of Uley.
In 1822 Francis Baglin (c1798-1876), a great-grandchild of John Baglin and Mary Peglar, married Sarah Robins (c1799-1848); the Robins family have a long history of being local carpenters in Uley and are likely to have worked for the Manor house. The cottages where one branch of the Robins family lived has long since gone although some foundations remain among the brambles on what was called Firary Lane. The Manor house is only a short walk from Grist Mill; the only mill in the locality that ground flour, all the other mills being connected with the cloth industry. The Mill is now a guest house, but a lot of the mill workings (all made of wood) are still there to add to the charm of the place.


Children
Footnotes (including sources)