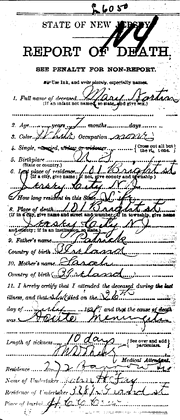 Mary Norton (1898-1898) died as an infant of "acute meningitis" when 7 months old. (b. about January 1898; 101 Bright Street, Jersey City, Hudson County, NJ, 07302, USA - d. July 26, 1898; 101 Bright Street, Jersey City, Hudson County, NJ, 07302, USA)
She was the daughter of Patrick J. Norton (1856-1905) an Irish immigrant and laborer on the railroad; and Sarah Jane Carr (c1866-1950) a maid in a rooming house. Patrick was from County Galway and Sarah was from Coalpits in Athleague parish in Killeroran district on the Galway and Roscommon border.
Patrick immigrated around 1880 through Boston and Sara arrived around 1885 in New York.
Sara and Patrick married on April 13, 1890 at Saint Paul's Roman Catholic Church in the Greenville section of Jersey City, New Jersey and had the following children: Thomas Patrick Norton I (1891-1968) a railroad yardmaster for the Delaware Lackawanna & Western (DL&W) who married Mary (May) Margaret Burke (1890-1949) and later married her half-sister Josephine (May) Veronica Burke (1907-1995); James Joseph Norton I (1892-1961) who married Helen (Eenie) Marie Maher (1895-1974); Katherine (Kate) Norton who married James Patrick Langan I (1889-1975) an Army Sergeant in World War I and a newspaper pressman; and Sarah Francis Norton (1896) who died as an infant.
She died of "acute meningitis".
She is buried in Holy Name Cemetery with:
Community content is available under
CC-BY-SA
unless otherwise noted.