Mary Barker Stearns
was born
1 January
1604
in
Stoke by Nayland
,
Suffolk
,
England
to
John Barker (1563-1617)
and
Margaret Walter (1564-)
and died
23 April
1677
in
Watertown
,
Middlesex County
,
Massachusetts
of unspecified causes. He married
Isaac Stearns (1603-1671)
20 March 1622 in
Stoke-by-Nayland
,
Suffolk
,
England
.
",42.371" can not be assigned to a declared number type with value 42.371.
",-71.182" can not be assigned to a declared number type with value -71.183.
Biography
1630 Winthrop Fleet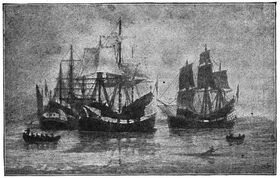 He was a passenger on the in the Winthrop Fleet in 1630, part of The Great Migration. It was the largest fleet ever assembled to carry Englishmen overseas to a new homeland. It was a well planned and financed expedition comprising eleven ships that carried 700 immigrants from England to the Massachusetts Bay Colony. The group, led by Governor John Winthrop, sailed from April to July of 1630. The fleet landed at Salem. Of the 700 on board, 200 died during the voyage, and 100 returned to England soon after arrival. Some of the 400 remaining settlers stayed in Salem, but many moved on to Boston, Watertown, or other settlements.
Isaac traveled with his wife and five children from England to Massachusetts.
Children
Offspring of Isaac Stearns, Sr. and Mary Barker (1604-1677)
Name
Birth
Death
Joined with


John Stearns (1623-1669)
20 April 1623 Halstead, Essex, England, United Kingdom
5 March 1669 Billerica, Middlesex County, Massachusetts, United States
Sarah Mixer (c1625-1656)
Mary Lathrop (1640-1735)


Abigail Stearns (1625-1690)


Mary Stearns (1625-1663)
6 January 1626 Nayland, Suffolk, England
8 January 1664 Weymouth, Norfolk County, Massachusetts
Isaac Learned (1623-1657)


Hannah Stearns (1628-1656)


Isaac Stearns (1633-1676)
6 January 1633 Watertown, Middlesex County, Massachusetts
29 August 1676 Lexington, Middlesex County, Massachusetts
Sarah Beers (1639-1724)


Sarah Stearns (1635-1700)


Samuel Stearns (1638-1683)


Elizabeth Stearns (1640-1671)


Charles Stearns (1642-)


Abiel Stearns (1654-1713)
Siblings
Residences
Footnotes (including sources)
Contributors
Community content is available under
CC-BY-SA
unless otherwise noted.