Biography
Mary Aspinwall Gove
was born
1628
in
England
to
William Aspinwall (1602-1663)
and
Elizabeth Goodyear (1606-c1650)
and died
14 November
1676
in
Cambridge
,
Middlesex County
,
Massachusetts
of unspecified causes. She married
John Gove (1632-1704)
6 October 1658 in
Cambridge
,
Middlesex County
,
Massachusetts
.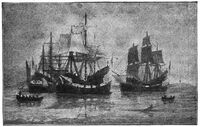 This family were some of the 700+ Passengers of the Winthrop Fleet which sailed from England to settle the Massachusetts Bay Colony at Salem in 1630 under the guidance of Gov. John Winthrop. It is reported that during the first year nearly 200 of these colonists died and another 100 returned to England. The remaining settlers either stayed in Salem or moved on to Boston or Watertown.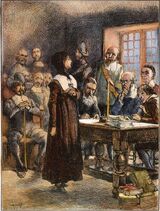 In 1636-1638, Massachusetts Bay Colony, this family were Free Grace Advocates (AKA: Antinomian Controversy) which caused great religious and political strife in the colony. It pitted most of the colony's ministers and magistrates against some adherents of the Free Grace theology of Puritan minister John Cotton. The most notable Free Grace advocates, often called "Antinomians", were charismatic Anne Hutchinson, her brother-in-law Reverend John Wheelwright, and Massachusetts Bay Governor Henry Vane. In the summer of 1637 their opponents led by Gov John Winthrop won back political control of the colony. The following trial led to the banishment many of the leaders of this movement.
William Aspinwall joined himself with the adherents of Anne Hutchinson and John Wheelwright (1593-1679), aided in drafting their famous petition, and departed with them to Rhode Island. He was at Portsmouth NH in 1638, where he signed the covenant of formation, but he moved to the New Haven Colony in 1641.
Children
Siblings
Research Notes
Aspinwall Family Connection
CHILDREN:i (poss.) MARY, b. about 1628; m. Cambridge 6 October 1658 John Gove as his first wife. (There is no direct evidence that Mary belongs in this family, but she has been placed here by many writers because there is no other family in which to place her [unless she is in some way related to Peter Aspinwall, who arrived in New England in the 1640s]. Her estimated date of birth, which would make her thirty at marriage, is made necessary because there is no place else to fit her in the sequence of births down to 1644, and any later date would make her only about twelve at marriage. [As Boston town clerk and recorder of births, marriages anddeaths at the time these early Boston vital records were prepared in 1644, Aspinwall included his daughter Dorcas, who must in fact have been born in Portsmouth. Having done that, he would surely have included daughter Mary if she had been born in 1642, say.])
Sources
The Aspinwall genealogy. Compiled by Algernon Aikin Aspinwall, Washington, D.C. Published by the author. Published 1901 by The Tuttle Co., Printers in Rutland, Vt .
The Gove Book, History and Genealogy of the American Family of Gove, and Notes of European Goves, by William Henry Gove, 1922.
Cambridge VR, 2:577, Mary Gove d.
Cambridge VR, 2:164, John Goave/Mary Aspinwall m.
Cambridge VR, 2:577, John Gove d.
Cambridge VR, 2:577, John Gove d.; Mary Gove d.
Cambridge VR, 1:301, Mary Gove b.
Residences
Footnotes (including sources)
Contributors
Community content is available under
CC-BY-SA
unless otherwise noted.