Mary Ann was born 9 July 1864 in Hyrum, Cache County, Utah Territory, United States to Jens Wilhelm Nielsen (1837-) and Kirsten Knudsen (1830-1910) and died 21 May 1954 Sacramento, Sacramento County, California, United States of unspecified causes. She married John Wesley Powell (1858-1908) 29 September 1889 in Boise, Idaho, United States.
Biography
Husband's Death Notice (unknown paper): POWELL - In this city, February 13, 1908. John Wesley Powell, beloved husband of Mary Powell, father of Hazel, Claude, Leslie, Jessie, Marian and Everet Powell, a native of Marshall, Iowa, aged 48 years.
Her husband was a junk dealer by trade in Oak Park (near Sacramento CA). Murdered in front of his barn on February 13, 1908. Shot in the heart because of a dispute with a neighbor named J. C. Anderson who had a revolver hidden in his overcoat pocket. Died in his wife's arms with his eldest daughter Hazel, age 8, by his side. Powell was unarmed. Murder reported in the Sacramento Bee. However, both are buried in Sacramento.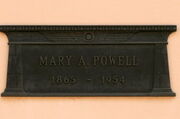 Mary Ann is buried in East Lawn Memorial Park in Sacramento CA.
Census Records
1900 US Census
Taken 8-Jun-1900 in ED61 Township 5, Placer Co, California
John W Powell M/40 Head (Born: Jan 1860-Iowa) / Ocp: Teamster
Mary A Powell F/36 Wife (Born: July 1864-Utah)
Hazel E Powell F/10 Daughter (Born:July 1890 - Utah)
James C Powell M/8 Son (Born:April 1892 - Idaho)
John L Powell M/6 Son (Born:Dec 1894 - California)
Jene W Powell M/4 Son (Born:June 1896 - California)
Children
Offspring of Mary Ann and John Wesley Powell (1858-1908)
Name
Birth
Death
Joined with

Hazel Elizabeth Powell (1890-1985)




Claude James Powell (1892-1952)




Lessil John Powell (1894-1979)




Jesse Powell (1896-1978)




Marion Kent Powell (1902-2001)




Edwin Maxwell Powell (1904-1986)
Siblings
References
Residences
Footnotes (including sources)