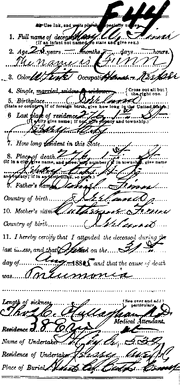 Mary Ann Finn (1858-1885) was an migrated from Wales to the United States in 1873. She never married and worked as a housekeeper for James B. Hance. (b. June 1859; Cardiff, Wales- d. August 31, 1885, 276 1st Street, Jersey City, Hudson County, New Jersey, 07307, USA)
Both parents were from Millstreet, County Cork, Ireland. Daniel and Catherine moved to Cardiff in Wales and their children were born there.
She was born in 1858 according to the England and Wales Birth Index.
United States
Edit
In 1873 Daniel Finn and Mary Creedon moved the family to the United States.
Housekeeper
Edit
Mary appears on the 1880 United States Census working as a housekeeper for James B. Hance, who was a produce store owner in Jersey City, New Jersey. James Hance lived at 323 Varick Street.
Mary died from pneumonia on August 31, 1885 and was buried on September 2, 1885 in Holy Name Cemetery, Jersey City, New Jersey in a plot bought for her death. Later her parents and siblings would be buried in the same plot. Mary Finn died without a will and the Surrogate Court awarded the estate to her mother on November 14, 1885.
She is buried with:
External link
Edit
Researched and written by Richard Arthur Norton (1958- ) for Findagrave starting on March 14, 2004. Updated on Valentine's Day, February 14, 2013 with the 1871 census of Wales which gives her middle name as "Ann".
Community content is available under
CC-BY-SA
unless otherwise noted.