OVERVIEW
Edit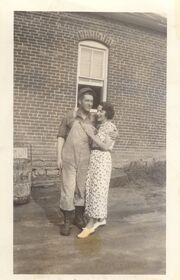 Born: June 12, 1910
Birth Place: Port Angeles, Washington
Married 1: March 30, 1926
Married 2: After 1945
Died: October 10, 2004
Burial: Dunn County, Wisconsin
Ancestry
Edit
Marion is the daughter of William Thomas Caven (1874-1943) and Florence Adella Hogan (1880-1913).
Spouse(s)
Edit
Robert Molitor
Stanly Gida
Unknown husband 1
Unknown husband 2
Unknown Reynolds
Child List
Edit
Living son Gorman
Living son Molitor
Family History
Edit
Marion was married 9 times to 6 husbands, she carried the name Reynolds to the end.
Alternative Interpretation
Edit
References
Edit
1. White, Emma Siggins, 1902. Descendants of John Walker of Wigton Scotland and Some Allied Families.
Research Needs
Edit
Page Needs
Edit
Contributors
Edit
William Gorman (Grandson)