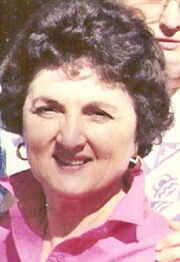 Marette Elaine Williamson (1925-2002) was a United States Army Cadet Nurse in WWII. (b. July 09, 1925, Halma, Kittson County, Minnesota, USA - d. August 26, 2002, Fergus Falls, Otter Tail County, Minnesota, USA) Social Security Number 477343524.
Birth
[
]
She was the daughter of and Martha Wilkens and Emil Andreas Williamson (1896-1964).
Siblings
[
]
She had a brother: Marvin Williamson (1928-1987), a reverend.
World War II:
[
]
Marette was a Army cadet nurse during WWII. She graduated from the Swedish Hospital School of Nursing in Minneapolis in 1946.
Marriage
[
]
She married Millard Klevgaard (1912-1999) on June 26, 1954 in Lockhart, Minnesota.
Nurse
[
]
She worked in a number of hospitals and clinics in Minnesota and North Dakota. She taught Health Occupations at the Fergus Falls Senior High School in the 1970's.
Death
[
]
She died in 2002 and was buried at Ada Cemetery.