Maja Jover Bañas was born 31 May 1939 in La Paz, Iloilo City, Iloilo, Commonwealth of the Philippines to Ludovico Arroyo Bañas (1901-1979) and Carmen Jalandoni Jover (1910-1992) and died 18 September 2021 Orchid St. corner Doña Luz Avenue, Iloilo City, Iloilo, Philippines (Don Francisco Village, Jaro, Iloilo City) of unspecified causes. She married Eduardo Brillantes (1937-2006) 4 June 1966 in Catholic Church in La Paz, Iloilo City, Iloilo, Philippines.
Birth and Family
Maja Jover Bañas was born on 31 May 1939 in La Paz, Iloilo City, Iloilo, Commonwealth of the Philippines to Ludovico Arroyo Bañas (1901-1979) and Carmen Jalandoni Jover (1910-1992). She is the third of eight siblings.
Maja's father Ludovico is from Banate, Iloilo. Her paternal grandmother came from the Arroyo Family of Banate, while her paternal grandfather, Celestino Barboza Bañas was an immigrant to the town from Capiz. He had bluish grey eyes and was supposed to have some Portuguese lineage.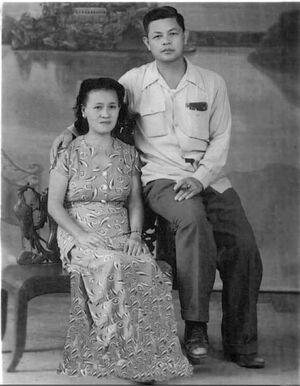 Maja's father received a scholarship from the United States of America Insular Government in the Philippines when he became one of the top ten examiners who passed the national test in telecommunications. He took his training with the United States Navy at Sangley point and went on to occupy various posts in the Telecommunications Bureau during the American Regime. He joined the guerrilla forces against the invading Japanese Forces during the World War II. He was the first to establish contact with the Allied Forces regarding the presence of guerrilla movement in the Philippines, after months without contact, following the Fall of Bata-an. After the war, Maja's father rose in the ranks of Telecommunications officers of the Philippine Republic, until he became the Regional Telecommunications Superintendent in Region IV (Panay, Negros, Palawan and Romblon) in the late 1950s.
On the maternal side, Maja's grandmother Vicenta Jalandoni came from Chinese immigrants to Iloilo. They were landed merchants in the La Paz District. Her maternal grandfather also belonged to the landed and political family - the Jover Family. In fact, her maternal uncles occupied various leadership positions in La Paz District and in the City. Vicente Jalandoni Jover was President of La Paz District during the American Regime. Dominador Jalandoni Jover was acting Mayor of the City shortly before the World War II. After the war, he conitued his political career, having been Vice Mayor and, in 1954, Mayor of Iloilo City.
Younger years and education
Maja and her elder sisters Thelma and Alsina were born shortly before the World War II, during which they spent their lives in hiding, in their father's farm in Merced, Banate, Iloilo. Their father Ludovico was away for most parts of the early years of World War II, being a guerrilla fighter of the US Armed Forces in the Pacific.
After the war, their family went back to their home in La Paz District of Iloilo City. There she did her primary and intermediate education in La Paz Elementary School. Thereafter, she went to Collegio de San Jose (the first Higher Education Institution for women in Western Visayas established during the Spanish Regime) in Jaro District, for her High School Education. During those years, she took piano tutorial lessons from her maternal aunts.
Aiming to be a school teacher, Maja pursued a degree of Bachelor of Arts in Elementary Education at the University of San Agustin, the first University in Western Visayas. She finished this course in 1962.
After graduation, she practiced as substitute teacher in Tikod Elementary School, which is a Barrio School in La Paz District.
Marriage and life as a teacher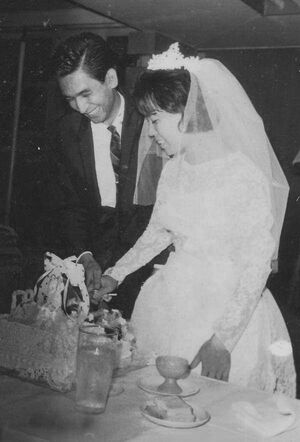 On 4 June 1966, Maja was married to Eduardo Brillantes (1937-2006), in the Parish Church of Our Lady of Peace in La Paz. Shortly after, they moved to Banate, Iloilo in the house of Eduardo's parents. Later, they settled permanently in a nearby family property, where her paternal grandparents used to live. Fearing the danger of concrete house for small children, the couple opted to build a traditional Filipino house made of wood, bamboo and nipa. Here paternal uncle Maximo Arroyo Bañas offered the bamboo from his farm in Merced, Banate for the construction. There, in that first house, six children were born. John, Mary Lee, Newlyn, Marlon, Jane and Oscine, who died of meningitis, a month after her birth.
Not long after they built their permanent home in Banate, Maja found a teaching position in Merced Elementary School. Later, she got transferred to Libertad Elementary School. When Marlon was born in March 1974, the family had a short stint of three months in a rented house near this school, at the start of the school year in June. Commuting daily from the town center, where they resided, to Libertad was not good for Maja who had just given birth to her second son. In 1976, she was transferred again to Talokgangan Elementary School. The school is accessible from their house by a fifteen-minute walk. In 1984, she moved to Banate Central School. She taught in this School until she retired in the year 2003.
Throughout those years until the mid 1990s, Maja also served as an organist at St. John the Baptist Parish in Banate. She started to render services on weddngs in the early 1970s. In the early 1980s, when Fr. Quirino Palma, Jr. was parish priest in Banate, she enlivened also the Aguinaldo masses (pre-Christmas novena dawn Masses) with organ music, as the Misa Pastoril was being revived during Christmas Season. Later, she regularly served also at the main Eucharistic celebration on Sundays. When she retired from being organist in the mid 1990s, the Misa Pastoril has already been restored as a popular tradition in Banate, and was also spreading in other parishes of the Archdiocese of Jaro.
Siblings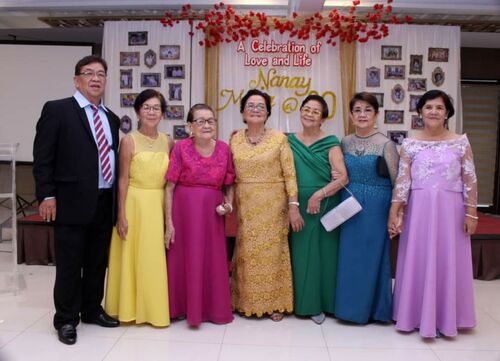 Siblings of Maja Jover Bañas
Thelma Jover Bañas married to Paolo Badilla
Alsina Jover Bañas married to Salvador Alba, Jr.
Emma Jover Bañas
Manajama Jover Bañas married to Reynaldo Gamboa
Nancy Jover Bañas
Francily Jover Bañas married to Rolando Oberas
Richard Jover Bañas married to Gigi Jalandoni
Descendants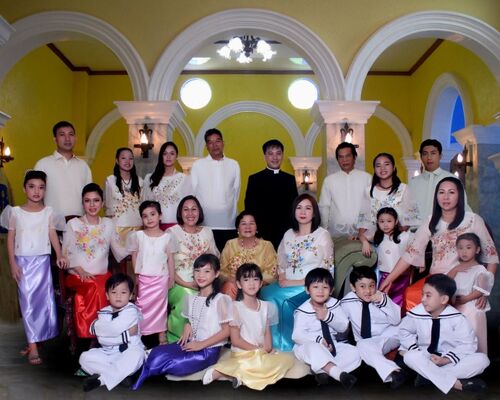 Children
Offspring of Maja Jover Bañas and Eduardo Brillantes (1937-2006)
Name
Birth
Death
Joined with

John Brillantes y Bañas




Mary Lee Brillantes y Bañas




Newlyn Brillantes y Bañas




Marlon Brillantes y Bañas




Jane Brillantes y Bañas




Oscine Brillantes y Bañas
Maja Bañas y Jover (31 May 1939); m. Eduardo Brillantes y Madrid (30 April 1937 - 25 June 2006), 4 June 1966; lived in Banate

John Brillantes y Bañas
Mary Lee Brillantes y Bañas; m. Clemente Eclar, Jr. y Bitalac; live in Jaro, Iloilo City

Maddie Marie Eclar y Brillantes
Mary Margaret Therese Eclar y Brillantes
Clemente Eclar III y Brillantes
John Eduard Eclar y Brillantes

Newlyn Brillantes y Bañas; m. Percios Ariel de Juan y delos Cientos; live in Jaro, Iloilo City

Patricia Maria Angela de Juan y Brillantes
Erika Maria Theresa de Juan y Brillantes
Ana Maria Isabelle de Juan y Brillantes

Marlon Brillantes y Bañas; m. Gemma Jacomille y Uy; live in Jaro, Iloilo City

Claudette Therese Brillantes y Jacomille
Theresa Marie Brillantes y Jacomille

Jane Brillantes y Bañas; m. Elmar Badayos y Ballener; live in Banate and in Jaro, Iloilo City

John Elmar Badayos y Brillantes
Juan Eduardo Badayos y Brillantes
Maria Victoria Jane Badayos y Brillantes
Karla Estrella Badayos y Brillantes

Oscine Brillantes y Bañas
Later years
After the death of her husband Eduardo in 2006, Maja remained in their home in Banate. Her youngest daughter Jane, married to Elmar Badayos (also of Banate), used to live in an apartment a few meters away from the ancestral home of Brillantes Family. In 2009, Jane built another house beside her parents' house. Meanwhile, Maja would spend some time with her second daughter Newlyn in Don Francisco Village, Jaro, Iloilo City, in order to oversee the household helpers while Newlyn and her husband Ariel De Juan (a seaman) were in their jobs.
When Jane transferred also to Don Francisco Village in 2014, Maja spent more of her time at the residence of Newlyn. Though she would spend some days every now and then in their home in Banate, especially when her eldest son, would come home from his work in Rome. She would also visit regularly the vast garden she has been maintaining in that property in Banate, through a caretaker. The garden still holds memorable trees such as the Chico of her grandfather Celestino Banas, and the Iba tree, which was a gift from her mother Carmen when her second daughter Mary Lee was born in 1969. She also maintains the baluk-baluk tree planted in a space between the house and carport, which was planted by her husband while he was still alive.
In Don Francisco Village, she would start her day with prayer and rosary at the family oratory in the garden within the property. Later, she would indulge in gardening, which was her hobby. Don Francisco Village would become the place where her sons and daughters, in laws and grandchildren would gather during regular family gatherings.
She would see her son Fr. John take up work as Secretary of the Apostolic Nuncio at the Nunciature in Manila and, later, to be invited to Rome as an official at the Congregation for Catholic Education in the Vatican. She was blessed to have accompanied her daughter Mary Lee to her first post as School Principal at San Juan Elementary School in Molo, Iloilo City, and to have the joy of seeing her second son Marlon becoming as Master Mariner or Captain as a seaman. She was also present in the debuts of her granddaughters Maddie Marie, Mary Margaret Therese and Patricia Maria Angela.
At the family oratory in the garden of Newlyn's residence in Jaro, she had the consolation of serene prayer every morning before she would do gardening. There, she would pray the rosary, meditate and intercede for her children and grandchildren, as well as for many other people, whom she knew and with whom she made friends. The oratory was always a venue for family prayer and Masses whenever the family would come together, and everytime her son Fr. John would come home from his work in the Vatican. The houses of her three daughter in Don Francisco Village were frequently filled with laughters and joy during family occasions.
During her last years, she also had spent many memorable moments with her siblings who live in La Paz, Iloilo City, attending birthdays, baptisms, weddings, or just dining out with them in the famous Ilonggo restaurant Tatoy's - their usual rendezvous. During vacations of her priest son, she enjoyed the company of her in laws Nieva, Amparo, and Delia, who would usually join them in family excursions and in big family events such as the debut for the 18th Birthdays of her granddaughters Maddie Marie and Mary Margaret Therese. Her siblings, in laws, and nephews and nieces (also those on the side of her husband) would spend bonding moments in hotels in Iloilo City during those family events. She saw her thirteen grandchildren grow to be studious, responsible and loving persons who are God-centered.
For her 80th Birthday, her children and grandchildren organized a family reunion in one of the popular hotels in Iloilo City. That would be the last significant family event, where she and her siblings, in laws, close relatives and friends would gather before the covid-19 pandemic prevented family activities for large number of persons. During that birthday, her siblings and in laws were in formal attire. It was a night of music, dances, joy and strengthening of family ties. She danced with all the male friends, relatives and family during the dance of birthday roses.
Death
Maja's children and grandchildren were still hoping that she would live up to a hundred years because her health was excellent until she experienced difficulties in walking by February 2021. She was forced to use the cane and to undergo physiotherapy. However, by the end of March 2021, she could no longer walk. She was taken cared of by her daughter Newlyn and her granddaughters Patricia Maria Angela, Erika Maria Teresa, and Ana Maria Isabel. All laboratory tests were made in order to see if she had bone fractures. Yet, her orthopedic physician found no fracture in her spinal column nor in her legs. By May 2021, her physiotherapist recommended to consult a neurologist. New laboratory tests were conducted, and it was discovered that she had plasmacytosis, which have already produced myeloma.
She was scheduled for surgery on 29 May. A significant part of her 11th vertebra was affected. The 10th and the 12th were slightly affected also. She spent two weeks of recovery at St. Paul's Hospital in Iloilo City, where she marked her 82nd birthday.
After the surgery, it was advised that radiotheraphy be administered and that physiotherapy be continued. The covid pandemic situation, however, prevented safe daily access to the hospital. Meanwhile, two caregivers were employed to assist Newlyn, Mary Lee and Jane in taking care of their mother. One of the caregivers was Mylen, who stayed with Maja and her husband in Banate when their children were already married. Mylen was still studying.
Mary Margaret Therese would also accompany her mother Mary Lee, in taking turn to attend to Maja's medical needs at night.
While waiting for the pandemic situation to improve, it was observed by her family that Maja's strength was already declining, after she took the covid vaccine in the mid of August 2021. The family wanted to bring her to the hospital for medical treatment. However, her doctor frankly informed her children that there was no guarantee for her situation to improve. Besides, the risk of being infected with the virus was very high, especially because the long waiting list of patients in emergency rooms of hospitals, could easily expose her to the virus carried by many positively infected persons at the emergency room.
At the advise of the doctor, her family opted to give personal care to their mother in the home of Newlyn. Her son Fr. John was advised to go home from Rome, since their mother's health was rapidly declining. However, due to the pandemic, Fr. John had to undergo quarantine for ten days when he arrived at Clark International Airport, on 6 September. At the quarantine facilities in Subic Bay Port Area in Olongapo City, he saw though frequent video calls the rapid decline of his mother's health. In that situation, her granddaughters always come to make her stay positive and strong. Maddie, who was already in her clerkship as a medical student, would stay there often in order to facilitate communication with the right doctors and medical personnel who would come and render home service.
When her priest son arrived home, on September 15, Maja was could no longer eat. A naso-gastric tube was inserted through her nostril to feed her with liquid food. Oxygen was also provided to help her breath better. The sad situation only afforded a few hours of meeting between Maja and her priest son. She could no longer talk. All that was there for her son to see were her teary eyes waiting for him. Fr. John, who was required to wear mask and face shield consoled his mother with spiritual care, assisting her for sacramental confession, and giving her the absolution and blessing. He made her recall the many blessings of God to her and to her family, leading her to appreciate God's many graces and to be grateful to the Lord. He spent time with her until past midnight. The next day, his mother was just sleeping all the time. So, he never slept at night anymore. He kept watch of her with his sisters Mary Lee, Newlyn and Jane, who alternately took turns in assisting their mother at night, to feed her and to give her medicine.
On 18 September, at 10:55 a. m., Maja breathed her last. She showed signs of dying earlier that day. So, her children, in laws and grandchildren gathered where she was. She died at peace. Being devoted to the Sacred Heart of Jesus and to his Blessed Virgin Mother, Maja did not experience pain (as promised by the Lord to those devoted to his Sacred Heart). As her time was coming, her granddaughter Maddie hastened to summon all her cousins telling them that the soul of their Lola Maja was already ascending to heaven. So, everybody gathered around Maja, praying the rosary. All in tears, but strong in surrounding her with their ardent love and fervent prayers. She died on that day, Saturday, the day dedicated to the Blessed Virgin Mary.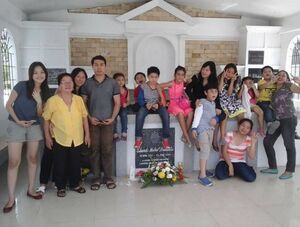 Due to the pandemic, the funeral wake was limited only to her siblings and their children, for two days (September 21 to 23) at the family oratory in Don Francisco Village. In the afternoon of September 23, her mortal remains were brought to Brillantes-Bañas ancestral home in Banate, where Nieva (her only surviving sister in law), close relatives and friends were allowed to visit. The rest were invited for the viewing at the Parish Church of St. John the Baptist in Banate, two hours before the funeral Mass. The funeral Mass was presided by her son, and concelebrated by five other priests. After which, only her children Fr. John, Mary Lee, Newlyn and Jane were allowed to accompany her body on foot to the Catholic cemetery. Her grandchildren, except for Maddie who was filming the funeral procession on foot, the rest of her relatives and friends were obliged by the pandemic protocol to be in cars. Only her immediate family accompanied her to her resting place in the mausoleum of Brillantes family. Her tombstone says: "Always serene in God's grace." It also includes her coat of arms, with her motto: "Virtus solo nobilitat" (Virtue alone ennobles).
External Links
Photo Gallery
Notes and References
Notes:
References:
Footnotes (including sources)
| | |
| --- | --- |
| Ω Birth | Marriage Register of Eduardo Brillantes and Maja Bañas at the Canonical Book of the Roman Catholic Parish of Nuestra Señora de La Paz in La Paz, Iloilo City, Philippines, dated 4 June 1966. |
| | |
| --- | --- |
| ₪ Wedding | Marriage Register of Eduardo Brillantes and Maja Bañas at the Canonical Book of the Roman Catholic Parish of Nuestra Señora de La Paz in La Paz, Iloilo City, Philippines, dated 4 June 1966. |
| | |
| --- | --- |
| ¶ Death | Buried in the mausoleum of Brillantes Family in Banate, Iloilo, Philippines, on 24 September 2021. |
Warning: Default sort key "Maja Jover Bañas (1939-2021)" overrides earlier default sort key "Bañas, Maja Jover".