Los Angeles County

,

California

| | |
| --- | --- |
| Flag | Seal |


Location in the state of California

California's location in the U.S.
Founded
1850
Named for
Los Angeles
Seat
Los Angeles
Area
 - Total
 - Land
 - Water

4,752 sq mi (12,308 km²)
4,061 sq mi (10,518 km²)
691 sq mi (1,790 km²), 14.55%
Population
 - (2006)
 - Density

9,948,081 (est)
25,068/sq mi (9,679/km²)
Website
lacounty.info
Los Angeles County is a county in California and is by far the most populous county in the United States. Figures from the U.S. Census Bureau give an estimated 2006 population of 9,948,081 residents, [1] while the California State government's population bureau lists a January 1 2007 estimate of 10,331,939. [2] The county seat is the City of Los Angeles.
The county is home to 88 incorporated cities and many unincorporated areas. The coastal portion of the county is heavily urbanized, though there is a large expanse of lesser populated desert inland in the Santa Clarita Valley, and especially in the Antelope Valley which encompasses the northeastern parts of the county and adjacent eastern Kern County, lying just north of Los Angeles County. In between the large desert portions of the county ― which make up around 40 percent of its land area ― and the heavily urbanized central and southern portions sits the San Gabriel Mountains containing Angeles National Forest. All of southern Los Angeles County, north to about the center of the county, is heavily urbanized.
This county holds most of the principal cities encompassing the Greater Los Angeles Area, and is the most important of the five counties that make up the area. As of 2004, the county's population is larger than the populations of 42 states and is home to over a quarter of all California residents. According to the United States Conference of Mayors, Los Angeles County boasts a GDP among the twenty largest in the world.[1]
Los Angeles County was one of the original counties of California, created at the time of statehood in 1850. Parts of the county's territory were given to San Bernardino County in 1853, to Kern County in 1866 and to Orange County in 1889.
Most of the County's history is recounted in the other articles covering its constituent cities and their neighborhoods.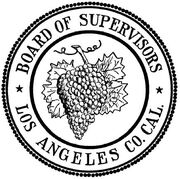 With 4,061 square miles (10,517 km²), Los Angeles County borders 70 miles of coast on the Pacific Ocean and encompasses numerous other natural landscapes including towering mountain ranges, deep valleys, forests, islands, lakes, rivers, and desert. More specifically, the county contains the following rivers: Los Angeles River, Rio Hondo, the San Gabriel River and the Santa Clara River. The primary mountain ranges are the Santa Monica Mountains and the San Gabriel Mountains. It also includes the westernmost part of the Mojave Desert, and San Clemente Island and Santa Catalina Island in the Pacific Ocean.
Most of the population of Los Angeles County is located in the southern and southwestern portion of the county. The major population centers are the Los Angeles Basin and the San Fernando and San Gabriel Valleys. Moderate population are in the Santa Clarita, Crescenta and Antelope Valleys. The area north of the Santa Clarita Valley (Northwest Los Angeles County, adjacent to Ventura and Kern counties) is mostly mountainous, rugged, well-timbered and filled with coniferous forests and receives plentiful snow in the winter, right to the point of blizzard conditions. This area is less populated. Mountains in this area include San Emigdio Mountains, the southernmost part of Tehachapi Mountains, and the Sierra Pelona Mountains.
Most of the highest peaks in the county are located in the San Gabriel Mountains, which are part of the Transverse Ranges. They include Mount San Antonio (10,064 ft) at the Los Angeles-San Bernardino county lines, Mount Baden-Powell (9,399 ft), Mount Burnham (8,997 ft), and the well-known Mount Wilson (5,710 ft) where the Mount Wilson Observatory is located. Several smaller, lower peaks are located in the northern, western, and southwestern Los Angeles County.
The county has a total area of 12,308 km² (4,752 sq mi). 10,518 km² (4,061 sq mi) of it is land and 1,791 km² (691 sq mi) of it (14.55%) is water.
Major divisions of the county
[
edit
|
edit source
]
Unincorporated communities in Los Angeles County
[
edit
|
edit source
]
The following areas are unincorporated regions of the county which fall directly under the county government's jurisdiction. Most, but not all of them, are Census-designated places. With no city government, residents of these areas must petition the appropriate member of the Board of Supervisors when they have a grievance about the quality of local services.
Many of these communities have town councils which are the official advisory bodies for the supervisor in the community. Typically these town councils are elected from the residents in a given region and have a direct channel to the supervisor and his staff to communicate concerns. Currently, Acton, Agua Dulce, Altadena, Castaic, Hacienda Heights, Juniper Hills, Quartz Hill, Rowland Heights, Topanga, and Val Verde have active town councils, though they may not be called by that name.
See Southern California Zip Codes
Transportation Infrastructure
[
edit
|
edit source
]
The county's primary commercial aviation airport is Los Angeles International Airport (LAX) in Los Angeles. Other important airports include the Long Beach Municipal Airport in Long Beach and Bob Hope Airport in Burbank. Palmdale Regional Airport is planned for expanded commercial service. There are also general aviation airports in Los Angeles, including airports in Van Nuys and Pacoima. Other general aviation airports exist in Santa Monica, Compton, Torrance, El Monte, Lancaster, and Hawthorne.
The county has the following intercity Amtrak service at Union Station in the city of Los Angeles.
Union Station is also the primary hub for Metrolink commuter rail, which serves much of the greater Los Angeles area.
Light rail, subway (heavy rail), and long-distance bus service are all provided by the Los Angeles County Metropolitan Transportation Authority (Metro).
The county has a freeway network of legendary size and complexity, which is maintained by Caltrans and patrolled by the California Highway Patrol. It also has a large street network, most of which is maintained by city governments. The county and most cities generally do a decent job of maintaining and cleaning streets. For more information about the primary exception, see the Transportation in Los Angeles article.
Both the freeways and streets are notorious for severe traffic congestion, and the area's freeway-to-freeway interchanges regularly rank among the top 10 most congested points in the country.
In addition to Metro Bus service, numerous cities within the county also operate their own bus companies and shuttle lines.
The county's two main seaports are the Port of Los Angeles and the Port of Long Beach. Together they handle over a quarter of all container traffic entering the United States, making the complex the largest and most important port in the country.
The Port of Los Angeles is the largest cruise ship center on the west coast, handling over 1 million passengers annually.
The Port of Long Beach is home to the Sea Launch program, which uses a floating launch platform to insert payloads into orbits that would be difficult to attain from existing land-based launch sites.
Ferries link Avalon to the mainland.
Thomas Guide - The most popular series of map books among Los Angeles residents.
The major industries of Los Angeles County are international trade, supported by the Port of Los Angeles and the Port of Long Beach, motion picture and television program production, music recording and production, aerospace, and professional services such as law and medicine.
Although the City of Los Angeles is commonly associated with the entertainment industry, all of the major studios, except Paramount Pictures, are now located outside of its boundaries (in neighboring Culver City, Burbank and Glendale). Paramount Pictures is the only major studio that is in Hollywood (a district of Los Angeles City).
For major companies headquartered in the City of Los Angeles, and adjacent cities, see the Economy section of the Los Angeles, California article.
The following major companies have headquarters in Los Angeles County cities not adjacent to the city of Los Angeles:
Historical populations
Census
Pop.
%±
1850
3,530

—

1860
11,333

221.0

%
1870
15,309

35.1

%
1880
33,381

118.0

%
1890
101,454

203.9

%
1900
170,298

67.9

%
1910
504,131

196.0

%
1920
936,455

85.8

%
1930
2,208,492

135.8

%
1940
2,785,643

26.1

%
1950
4,151,687

49.0

%
1960
6,038,771

45.5

%
1970
7,041,980

16.6

%
1980
7,477,421

6.2

%
1990
8,863,164

18.5

%
2000
9,519,338

7.4

%
Los Angeles County has the highest population of any census-designated area in the United States. The population is one of the most diverse in the world; those identifying as Hispanic or Latino form a plurality of the population, and the county also has the largest Asian population in the country at 1.4 million.
As of the census² of 2000, there were 9,519,338 people, 3,133,774 households, and 2,137,233 families residing in the county. The population density was 905/km² (2,344/sq mi). There were 3,270,909 housing units at an average density of 311/km² (806/sq mi). The county has a unique ethnic diversity. The racial makeup of the county is 48.71% White, 11.0% African American, 0.81% Native American, 10.0% Asian, 0.28% Pacific Islander, 23.53% from other races, and 4.94% from two or more races. 44.56% of the population are Hispanic or Latino of any race. 45.87% of the population reported speaking only English at home; 37.89% speak Spanish, 2.22% Tagalog, 1.98% Chinese, 1.87% Korean, and 1.57% Armenian. [3]
There were 3,133,774 households out of which 36.80% had children under the age of 18 living with them, 47.6% were married couples living together, 14.7% had a female householder with no husband present, and 31.8% were non-families. 24.6% of all households were made up of individuals and 7.1% had someone living alone who was 65 years of age or older. The average household size was 2.98 and the average family size was 3.61.
In the county the population was spread out with 28.0% under the age of 18, 10.3% from 18 to 24, 32.6% from 25 to 44, 19.4% from 45 to 64, and 9.7% who were 65 years of age or older. The median age was 32 years. For every 100 females there were 97.7 males. For every 100 females age 18 and over, there were 95.0 males.
The median income for a household in the county was $42,189, and the median income for a family was $46,452. Males had a median income of $36,299 versus $30,981 for females. The per capita income for the county was $20,683. There are 14.4% of families living below the poverty line and 17.9% of the population, including 24.2% of under 18 and 10.5% of those over 64.
The homeownership rate is 47.9%, and the median value for houses is $209,300. 42.2% of housing units are in multi-unit structures.
As of: 1 July 2005[2]
Total Population: 9,935,475, a 4.4% increase between 2000 and 2005, or about 27% of California's population.
Non Hispanic Persons: 53.2%

White (Non-Hispanic/Non-Latino): 29.5%
Black: 9.7%
Asian: 13.0%
Other: 0.90%

Hispanic or Latino: 46.8%

Other Statistics

Male Residents: 49.4%
Female Residents: 50.6%
Residents Aged under 18: 27.6%
Residents Aged between 19 and 64: 62.3%
Residents Aged above 65: 10.1%

Foreign born: 36.2% (majority in Mexico)
Poverty Level: 17.7%
Law, government and politics
[
edit
|
edit source
]
Presidential elections results

| Year | DEM | GOP | Others |
| --- | --- | --- | --- |
| 2004 | 63.1% 1,907,736 | 35.6% 1,076,225 | 1.3% 39,319 |
| 2000 | 63.5% 1,710,505 | 32.4% 871,930 | 4.2% 112,719 |
| 1996 | 59.3% 1,430,629 | 31.0% 746,544 | 9.7% 233,841 |
| 1992 | 52.5% 1,446,529 | 29.0% 799,607 | 18.4% 507,267 |
| 1988 | 51.9% 1,372,352 | 46.9% 1,239,716 | 1.2% 32,603 |
| 1984 | 44.4% 1,158,912 | 54.5% 1,424,113 | 1.1% 29,889 |
| 1980 | 40.2% 979,830 | 50.2% 1,224,533 | 9.7% 235,822 |
| 1976 | 49.7% 1,221,893 | 47.8 1,174,926 | 2.5% 62,258 |
| 1972 | 42.0% 1,189,977 | 54.8% 1,549,717 | 3.2% 90,676 |
| 1968 | 46.0% 1,223,251 | 47.6% 1,266,480 | 6.3% 168,251 |
| 1964 | 57.4% 1,568,300 | 42.5% 1,161,067 | 0.1% 1,551 |
| 1960 | 50.2% 1,323,818 | 49.4% 1,302,661 | 0.3% 8,020 |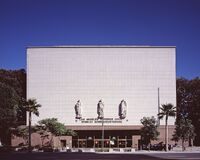 The county is governed by the five-member Los Angeles County Board of Supervisors, who are elected by the county's voters. The small size of the board means each supervisor represents over 2 million people. The board operates in a legislative, executive, and quasi-judicial capacity. As a legislative authority, it can pass ordinances for the unincorporated areas (ordinances that affect the whole county, like posting of restaurant ratings, must be ratified by the individual city). As an executive body, it can tell the county departments what to do, and how to do it. As a quasi-judicial body, the Board is the final venue of appeal in the local planning process, and holds public hearings on various agenda items.
The county government is operated by a Chief Executive Officer, currently William T Fujioka, and is organized into many departments, each of which is enormous in comparison to equivalent county-level (and even state-level) departments anywhere else in the United States. Some of the larger or better-known departments include:
The Los Angeles County Metropolitan Transportation Authority, despite its name, is not a County department. Technically it is a state-mandated county transportation commission that also operates bus and rail.
The Los Angeles Superior Court, which covers the entire county, is not a County department but a division of the State's trial court system. The courthouses, however, are county-owned buildings that are maintained at county expense.
Despite being a highly liberal county, many suburban cities in Los Angeles County are relatively conservative, particularly in the Palos Verdes Peninsula. Twenty-six cities in the county had a majority of votes go to George W. Bush in the 2004 Presidential Election; they were [4]: Arcadia, Avalon, Covina, Diamond Bar, El Segundo, Glendora, Hidden Hills, Industry, La Canada Flintridge, La Habra Heights, La Mirada, La Verne, Lakewood, Lancaster, Palmdale, Palos Verdes Estates, Rancho Palos Verdes, Rolling Hills, Rolling Hills Estates, San Dimas, San Marino, Santa Clarita, Torrance, Vernon, Westlake Village, and Whittier. The remainder of the 89 cities and districts in the county voted for Bush's Democratic opponent, John Kerry.
In the House of Representatives, all of districts 27-39 are entirely within the county and are all represented by Democrats. In order of district number they are Brad Sherman, Howard Berman, Adam Schiff, Henry Waxman, Xavier Becerra, Hilda Solis, Diane Watson, Lucille Roybal-Allard, Maxine Waters, Jane Harman, Laura Richardson, Grace Napolitano, and Linda Sánchez. Parts of the county are also in the 22nd, 25th, 26th, 42nd, and 46th districts, which are all represented by Republicans: Kevin McCarthy, Buck McKeon, David Dreier, Gary Miller, and Dana Rohrabacher respectively.
In the State Senate, all of districts 20-22 and 24-28, and 30 are entirely within the county and are all represented by Democrats. In order of district number they are Alex Padilla, Jack Scott, Gilbert Cedillo, Gloria Romero, Edward Vincent, Mark Ridley-Thomas, Alan Lowenthal, Jenny Oropeza, and Ron Calderon. Most of the 23rd district is in the county and is represented by Democrat Sheila Kuehl. Parts of the 17th, 19th, 29th, and 32nd districts are also in the county. The 17th, 19th, and 29th districts are represented by Republicans George Runner, Tom McClintock, and Bob Margett, respectively. The 32nd is represented by Democrat Gloria Negrete McLeod.
In the State Assembly, all of districts 39, 40, 42-55, 57, and 58 are entirely within the county and are all represented by Democrats. In order of district number they are Richard Alarcon, Lloyd Levine, Mike Feuer, Paul Krekorian, Anthony Portantino, Kevin DeLeon, Fabian Nunez, Karen Bass, Mike Davis, Mike Eng, Hector De La Torre, Curren D. Price, Mervyn M. Dymally, Ted Lieu, Betty Karnette, (the 55th district is vacant; it was previously held by Laura Richardson, who was elected to the House of Representatives in 2007), Ed Hernandez, and Charles Calderon. Most of districts 38, 41, and 56 are in the county. The 38th is held by Republican Cameron Smyth; the 41st and 56th are held by Democrats Julia Brownley and Tony Mendoza. Parts of districts 36, 37, 59, 60, and 61 are also in the county. The 36th, 37th, 59th, and 60th districts are represented by Republicans: Sharon Runner, Audra Strickland, Anthony Adams, and Robert Huff. The 61st is represented by Democrat Nell Soto.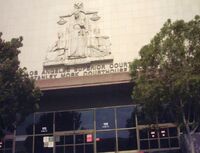 The Los Angeles County Superior Court has jurisdiction over all cases arising under state law, while the U.S. District Court for the Central District of California hears all federal cases. Both are headquartered in a large cluster of government buildings in the city's Civic Center.
Unlike the largest city in the United States, New York City, all of the city of Los Angeles and most of its important suburbs are located within a single county. As a result, both the county superior court and the federal district court are respectively the busiest courts of their type in the nation.
Many celebrities like O.J. Simpson have been seen in Los Angeles courts. In 2003, the tabloid television show Extra (based in nearby Glendale) found itself running so many reports on the legal problems of local celebrities that it spun them off into a separate show, Celebrity Justice.
State cases are appealed to the Court of Appeal for the Second Appellate District, which is also headquartered in the Civic Center, and then to the California Supreme Court, which is headquartered in San Francisco but also hears argument in Los Angeles (again, in the Civic Center). Federal cases are appealed to the Court of Appeals for the Ninth Circuit, which hears them at its branch building in Pasadena. The court of last resort for federal cases is the U.S. Supreme Court in Washington
The county is home to many prestigious colleges and universities. It also has a huge number of public school districts and many private schools.
The Los Angeles County Office of Education [5] provides a supporting role for school districts in the area. The county office also operates two magnet schools, including International Polytechnic High School and Los Angeles County High School for the Arts.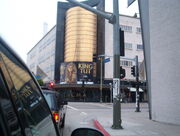 The county's most visited park is Griffith Park, owned by the City of Los Angeles. The county is also known for the annual Rose Parade in Pasadena, the annual Los Angeles County Fair in Pomona, the Los Angeles County Museum of Art, the Los Angeles Zoo, the Natural History Museum, the La Brea Tar Pits, the Arboretum of Los Angeles, and two horse racetracks and two car racetracks (Pomona Raceway and Irwindale Speedway), also the RMS Queen Mary located in Long Beach, and the Long Beach Grand Prix, and miles of beaches--from Zuma to Cabrillo.
Venice Beach is a popular attraction where its Muscle Beach used to find throngs of tourists admiring "hardbodies". Today it is more arts-centered. Santa Monica's pier is a well known tourist spot, famous for its ferris wheel and bumper car rides, which were featured in the introductory segment of the television sitcom Three's Company. Further north in Pacific Palisades one finds the beaches used in the television series Baywatch. The fabled Malibu, home of many a film or television star, lies west of it.
In the mountain, canyon, and desert areas one may find Vasquez Rocks Natural Area Park, where many old westerns were filmed. Mount Wilson Observatory in the San Gabriel Mountains is open for the public to view astronomical stars from its telescope, now computer-assisted. Many county residents find relaxation in water skiing and swimming at Castaic Lake Recreation Area - the county's largest park by area - as well as enjoying natural surroundings and starry nights at Saddleback Butte State Park in the eastern Antelope Valley - California State Parks' largest in area within the county. The California Poppy Reserve is located in the western Antelope Valley and shows off the State's flower in great quantity on its rolling hills every spring.
Coordinates: 34°11′N 118°16′W / 34.18, -118.26
Community content is available under
CC-BY-SA
unless otherwise noted.