Judge Lloyd Glen Zahnd was born 19 August 1931 in Savannah, Andrew County, Missouri, United States of America to Lloyd Rolland Zahnd (1906-1977) 1 and Mary Nadine Gore (1910-1994) and died 5 June 2009 Savannah, Andrew County, Missouri, United States of America of unspecified causes. He married Melissa Linda Hardy (1932-) 1 June 1953 in Liberty, Missouri, United States.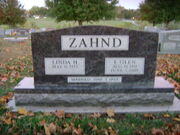 Children
Siblings
Prepared by Lloyd Glen Zahnd on Feb 2, 2001 Updated by his first grandson Caleb Zahnd on October 29, 2010
Born August 19, 1931, in Savannah, Andrew County, Missouri. First child of Lloyd R. and Mary N. (Gore) Zahnd. Died on June 5, 2009 in Savannah, Missouri after a lengthy illness.
Married Melissa Linda Hardy of St. Louis County, Missouri, daughter of H. Russell and Dorothy M. Hardy, on June 1, 1953, at Second Baptist Church, Liberty, Missouri. They have three children: Brian Hardy, March 5, 1959; Melissa Elizabeth (Hartwell), December 4, 1961; Eric Glen, August 19, 1968. Grandchildren are: Caleb Daniel Zahnd (b. 5-20-81), Aaron Wesley Zahnd (b. 9-16-86), Paul Douglas Hartwell (b. 5-4,1988), Cynthia Elizabeth Hartwell (b. 5-15-91), Philip Taylor Zahnd (b. 3-30-92), Benjamin Russell Zahnd (b. 7-8-99), and Audrey Melissa Hartwell (b. 12-17-?), Luke Zahnd (b.). Great-Grandchildren are: Jude Andrew Zahnd, (b. 06-11-2010), Mercy Regina Zahnd (b. 08-27-2011), and Finn Hardy Zahnd (b. 08-28-2012). Educated in the Savannah Public Schools, class of 1949, William Jewell College, A.B., 1953, and Washington University School of Law, J.D., 1958.
Served in United States Army from August 6, 1953 until August 5, 1955. Counter Intelligence Corps.
Admitted to The Missouri Bar, September 6, 1958. Private practice of law, Savannah, Missouri, September G, 1958, until December 31, 1987. Appointed as Associate Circuit Judge of Andrew County by Gov. John Ashcroft, serving from January 1, 1988, until retirement on December 31, 1998.
Member of First Baptist Church, Savannah, Missouri, serving as Deacon, Bible teacher, and Finance Committee Chairman. He has been a member of the Coordinating Council of the Cooperative Baptist Fellowship of Missouri.
A Republican who served as Andrew County Campaign Coordinator for the campaigns of Governor Kit Bond in 1972, 1976, and 1980, and of Governor John Ashcroft in 1984 and 1988.
Memberships and Recognitions:
American Bar Association
The Missouri Bar, Board of Governors, 1981-1985
Missouri Association of Probate and Associate Circuit Judges, Board of Directors, 1991-1995
Fellow of the American College of Trust and Estate Counsel
Andrew County and St. Joseph Bar Associations
Savannah High School Alumni Association, President, 1977-78
William Jewell College National Alumni Association, President, Distinguished Service Award, 1985; Law and Service Award., 1997
Saint Joseph Hospital, Board of Directors, Chairman, 1980-82
Heartland Health System, Board of Directors, Chairman, 1987-88
Rolling Hills Regional Library, Board of Trustees, President, 1963-70
Missouri Library Association, Citation for Meritorious. Achievement, 1968
City of Savannah Park Board, 1960-68
The Salvation Army Andrew County Service Unit Chairman, 1970435
Andrew County Museum and Historical Society, Board of Directors, President, 1994-2000
Kappa Alpha Order, Alpha Delta Chapter
The American Legion, Dick Munkres Post #287
Ancient Free & Accepted Masons, Savannah Lodge #71
Scottish Rite Bodies, 32 degree, St. Joseph Valley
High Twelve Club No. 49, St. Joseph
Recipient, 2000, Honorary Member, Savannah Area Chamber of Commerce
Residences
Footnotes (including sources)
Community content is available under
CC-BY-SA
unless otherwise noted.