The list of regions of the United States provides links to both interstate and intrastate regions.
Interstate regions
Edit
Official U.S. regions
Edit
Many regions in the United States are defined in law or regulations by the federal government.
Census Bureau-designated areas
Edit
Regional divisions used by the United States Census Bureau:[1]
Standard Federal Regions
Edit
The ten standard Federal Regions were established by OMB (Office of Management and Budget) Circular A-105, "Standard Federal Regions," in April, 1974, and required for all executive agencies. In recent years, some agencies have tailored their field structures to meet program needs and facilitate interaction with local, state and regional counterparts. However, the OMB must still approve any departures.
Region I: Connecticut, Maine, Massachusetts, New Hampshire, Rhode Island, Vermont
Region II: New Jersey, New York, Puerto Rico, Virgin Islands
Region III: Delaware, District of Columbia, Maryland, Pennsylvania, Virginia, West Virginia
Region IV: Alabama, Florida, Georgia, Kentucky, Mississippi, North Carolina, South Carolina, Tennessee
Region V: Illinois, Indiana, Michigan, Minnesota, Ohio, Wisconsin
Region VI: Arkansas, Louisiana, New Mexico, Oklahoma, Texas
Region VII: Iowa, Kansas, Missouri, Nebraska
Region VIII: Colorado, Montana, North Dakota, South Dakota, Utah, Wyoming
Region IX: Arizona, California, Hawaii, Nevada (American Samoa, Guam, Northern Mariana Islands, Trust Territory of the Pacific Islands)
Region X: Alaska, Idaho, Oregon, Washington
Federal Reserve banks
Edit
The Federal Reserve Act of 1913 divided the country into twelve districts with a central Federal Reserve Bank in each district. These twelve Federal Reserve Banks together form a major part of the Federal Reserve System, the central banking system of the United States.
Time Zones
Edit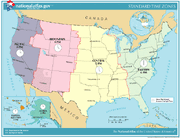 Courts of Appeals circuits
Edit
Unofficial U.S. multi-state regions
Edit
The Belts
Edit
Interstate metropolitan areas
Edit
Interstate megalopolises
Edit
(Megapolitan area, Megalopolis)
Intrastate regions
Edit
Northern Arkansas
the Delta
Northwest Arkansas
Central Arkansas
the River Valley
Southern Arkansas
California
Edit
Connecticut
Edit
In Connecticut, there are 15 official regions, each with a regional government that serves for the absence of county government in Connecticut. There are also a fair number of unofficial regions in Connecticut with no regional government.
Physiographic Regions of Georgia
Edit
River Region Evening Edition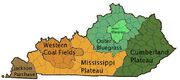 Louisiana
Edit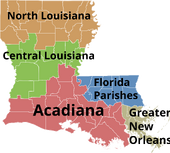 Massachusetts
Edit
Minnesota
Edit
Mississippi
Edit
New Hampshire
Edit
New Jersey
Edit
New Mexico
Edit
North Carolina
Edit
North Dakota
Edit
Pennsylvania
Edit
Rhode Island
Edit
South Carolina
Edit
Major Regions
Edit
Travel/Tourism Regions
Edit
Geographical Regions
Edit
Other Regions
Edit
South Dakota
Edit
Tennessee
Edit
Grand Divisions
Edit
Geographic Divisions
Edit
Washington
Edit
West Virginia
Edit
Wisconsin
Edit
List of regions of North America

Sovereign states

Dependencies and
other territories
Community content is available under
CC-BY-SA
unless otherwise noted.