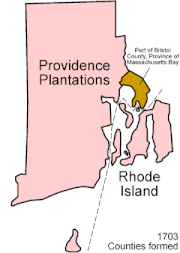 This is a list of the five counties in the U.S. state of Rhode Island. Rhode Island has the second lowest number of counties of any U.S. state (only Delaware has fewer, with three counties).[1] Although Rhode Island is divided into counties, it does not have any local government at the county level.[2] Instead, local government is provided by the eight cities and thirty-one towns.[3]
The colony of Rhode Island was established in the 17th century, and was the first of the thirteen original American colonies to declare independence from British rule in 1776, signaling the start of the American Revolution. The counties were all established before the Declaration of Independence.[2]
The Federal Information Processing Standard (FIPS) code, which is used by the United States government to uniquely identify states and counties, is provided with each entry.[4] Rhode Island's code is 44, which when combined with any county code would be written as 44XXX. The FIPS code for each county links to census data for that county.
County

FIPS Code[5]
County Seat
[6]
Created
[2]
Origin
[7]
Etymology

Population
(2000) [8]
Area
[8]
Map
 
Bristol County
001
Bristol
1747
Created from land gained from Bristol County after resolution of a boundary dispute between the two colonies.
City of Bristol, England
50,648

( 117 km²)
45 sq mi




Kent County
003
East Greenwich
1750
Created from part of Providence County.
County of Kent, England
167,090

( 487 km²)
188 sq mi




Newport County
005
Newport
1703
Formed as Rhode Island County in 1703. Renamed Newport County in 1729
City of Newport, Wales
85,433

( 813 km²)
314 sq mi




Providence County
007
Providence
1703
Formed in 1703 as Providence Plantations County. Renamed Providence County in 1729
Divine Providence
621,602

( 1,129 km²)
436 sq mi




Washington County
009
Wakefield[2]
1729
Formed in 1729 as Kings County from part of Providence Plantations County. Renamed Washington County in 1781. Washington County is more commonly known as "South County".
George Washington, American Revolutionary War general and first President of the USA
123,546

( 1,458 km²)
563 sq mi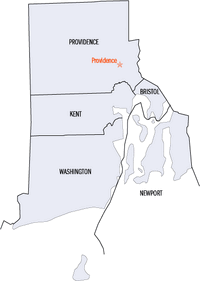 Community content is available under
CC-BY-SA
unless otherwise noted.