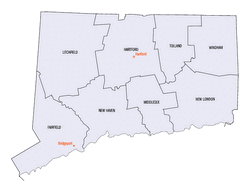 This is a list of counties in Connecticut. There are currently eight counties in the U.S. state of Connecticut. Four of them were created in 1666, during the first consolidation of the colony of Connecticut from a number of smaller colonies. Two counties were created during colonial times, and two counties, Middlesex and Tolland, were created after American independence (both in 1785). Six of the counties are named for locations in England, where many early Connecticut settlers originated.[1] Although Connecticut is divided into counties, there is no county government in Connecticut and local government consists of cities and towns.[2][3] County government was abolished in Connecticut in 1960, although the names remain for geographical purposes. Counties are, however, still used by the state to organize its judicial and state marshal system. Connecticut's court jurisdictions still adhere to the county boundaries, except for Fairfield, Hartford and New Haven, which have been further subdivided into several jurisdictions.
The FIPS county code is the five-digit Federal Information Processing Standard (FIPS) code which uniquely identifies counties and county equivalents in the United States. The three-digit number is unique to each individual county within a state, but to be unique within the entire United States, it must be prefixed by the state code. This means that, for example, while Fairfield County, Connecticut is 001, Belknap County, New Hampshire and Alachua County, Florida are also 001. To uniquely identify Fairfield County, Connecticut, one must use the state code of 09 plus the county code of 001; therefore, the unique nationwide identifier for Fairfield County, Connecticut is 09001. The links in the column FIPS County Code are to the Census Bureau Info page for that county.[4]
County

FIPS code
[4]
County seat
(defunct) [5]
Established
[5]
Origin
[1]
Etymology
[6]
Population
[5][7]
Area
[5]
Map

Fairfield County
001
Fairfield (1666-1853)
Bridgeport (1853-1960)
1666
One of four original counties created in Connecticut
From the hundreds of acres of salt marsh that bordered the coast.
916,829

( 1,621 km2)
626 sq mi
Hartford County
003
Hartford (1666-1960)
1666
One of four original counties created in Connecticut
After the county of Hertfordshire in the UK
894,014

( 1,906 km2)
736 sq mi
Litchfield County
005
Litchfield (1751-1960)
1751
From parts of Fairfield County, Hartford County, and New Haven County
City of Lichfield in the UK
189,927

( 2,383 km2)
920 sq mi
Middlesex County
007
Middletown (1785-1960)
1785
From parts of Hartford County and New London County
Former county of Middlesex in the UK
165,676

( 956 km2)
369 sq mi
New Haven County
009
New Haven (1666-1960)
1666
One of four original counties created in Connecticut
After New Haven Colony, founded as a haven in which Puritans could be free from persecution
862,477

( 1,570 km2)
606 sq mi
New London County
011
New London (1666-1960)
1666
One of four original counties created in Connecticut
After London, UK
274,055

( 1,725 km2)
666 sq mi
Tolland County
013
Tolland (1785-1889)
Rockville (1889-1960)
1785
From parts of Hartford County, and Windham County
Hamlet of Tolland, Somerset, UK
152,691

( 1,062 km2)
410 sq mi
Windham County
015
Windham (1726-1819)
Brooklyn (1819-1895)
Willimantic and Putnam (1895-1960)
1726
From parts of Hartford County, and New London County
After Windham (now Wineham) in Sussex, England
118,428

( 1,329 km2)
513 sq mi
Community content is available under
CC-BY-SA
unless otherwise noted.