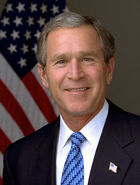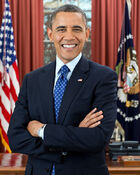 This is a list of notable Scots-Irish Americans, including both original immigrants who obtained American citizenship and their American descendants. The Scotch-Irish trace their ancestry to Lowland Scottish and Northern English people, but through having stayed a few generations in Ulster. This list is ordered by surname within section. To be included in this list, the person must have a Wikipedia article showing they are Scots-Irish American or must have references showing they are Scots-Irish American and are notable.
Many Presidents of the United States have ancestral links to Ulster, including three whose parents were born in Ulster.[1] The Irish Protestant vote in the U.S. has not been studied nearly as much as that of the Catholic Irish. In the 1820s and 1830s, supporters of Andrew Jackson emphasized his Irish background, as did James Knox Polk, but since the 1840s it has been uncommon for a Protestant politician in America to be identified as Irish, but rather as 'Scotch-Irish'.Template:Original research inline In Canada, by contrast, Irish Protestants remained a cohesive political force well into the 20th century, identified with the then Conservative Party of Canada and especially with the Orange Institution, although this is less evident in today's politics.
More than one-third of all U.S. Presidents had substantial ancestral origins in the northern province of Ireland (Ulster). President Bill Clinton spoke proudly of that fact, and his own ancestral links with the province, during his two visits to Ulster. Like most US citizens, most US presidents are the result of a "melting pot" of ancestral origins.
Clinton is one of at least seventeen Chief Executives descended from emigrants to the United States from Ulster. While many of the Presidents have typically Ulster-Scots surnames – Jackson, Johnson, McKinley, Wilson – others, such as Roosevelt and Cleveland, have links which are less obvious.
John Rutledge (Chief Justice of the United States, 1795; Associate Justice of the U.S. Supreme Court, 1789–1791; 31st Governor of South Carolina, 1776–1778 & 1779–1782; Continental Congress Delegate from South Carolina, 1774–1776; Stamp Act Congress Delegate, 1765)
William Paterson (U.S. Supreme Court Associate Justice, 1793–1806; U.S. Senator from New Jersey, 1789–1790; 2nd Governor of New Jersey, 1790–1793; New Jersey Attorney General, 1776–1783)
James Clark McReynolds (U.S. Supreme Court Associate Justice, 1914–1941; 48th U.S. Attorney General, 1913–1914)
Community content is available under
CC-BY-SA
unless otherwise noted.