Overview
[
]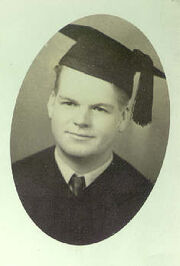 Named Leroy Byron Van Cott or Byron Leroy Van Cott
He went by Leroy
Vita
[
]
Born: 1 July 1913 Salt Lake City Utah USA
Married: 17 April 1942 Salt Lake City Utah USA
Died: 4 February 2003
Burial:
Parents
[
]
Spouse(s)
[
]
Child list
[
]
Family history
[
]
LeRoy was born July 1, 1913 in Salt Lake City to Frank Victor and Annie Mary Anderson Van Cott. Attended LDS High School and graduated from BYU in 1935. Married Ruth Johannesen April 17, 1942 in the Salt Lake Temple. He was a lifelong member of the LDS Church.
He began his career with the National Park Service in Yellowstone, later transferring his family to Zion National Park. He left the Park Service in 1968 and worked for First Security until he retired in 1978.
Dad's heart always stayed in Yellowstone. He loved hiking and fishing in its beauty.
He will be remembered as being thoughtful, generous, stubborn, funny, quiet, sweetly eccentric, an accomplished pianist, an entrepreneur, a fabulous cook and healthy and sharp right up until the month before his death.
He loved to travel with his older brother John and especially enjoyed the trips his son Stephen took him on in later years. He was able to make one final trip to Hong Kong during Christmas.
References
[
]
Contributors
[
]