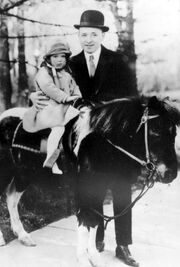 Leonard O'Malley (1888-1966) Real Estate (b. January 15, 1888, New York, USA - d. July 1966, Greenwich, Fairfield County, Connecticut, 06830, USA) Social Security Number 056059049.
He was the son of Thomas Francis O'Malley (1854-1918) and Georgiana Reynolds (1855-1941).
His siblings include: Frank O'Malley (1876-c1961) who was a banker that married Rene; Grace O'Malley (1881-?) who died as a youth; Edwin O'Malley (1883-1955) who married Alma Feltner (1882-1940) and was the Water Commisioner for the city of New York and the father of Walter O'Malley (1903-1979) who owned the Brooklyn Dodgers; Arthur O'Malley (1889-1971) who was a construction supervisor who married Maria K. Blake (1894-1989); Agnes O'Malley (1891-1980) who married Oscar Louis Naetzker (1891-1983); Joseph O'Malley (1893-1985) who was the editor and publisher of Contractors Register who married Kathryn Kennedy (1897-1974) aka Sis Kennedy; Estelle O'Malley (1895-1953) who married Nelson Montfort (c1895-?) and when they divorced she committed suicide on the boat between Paris and New York; Warren O'Malley (1897-c1955) who never married; and Kathyrn O'Malley (1898-1985) a lawyer who never married and was cremated.
Leonard married Florence Riley (1889-1959) around 1915.
They had one child: Eileen O'Malley (1919-1996) who married George Jay Gould III (1918-1985). George was the great-grandson of Jay Gould (1836-1892) the banker, financial speculator and railroad magnate. After Eileen and George Gould divorced, Eileen married Cyril J. Deutsch (1903-1986). Cyril and Eileen met at the Country Club in Greenwich, Connecticut. Cyril was an executive with Sears and was responsible for their credit card division.
Leonard died in 1966 in Connecticut.
External links
Edit