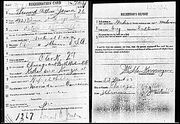 Leonard Arthur Jensen (1890-1979) aka Linky Jensen; Railroad Car Builder and Air Brake Tester, possibly for the Pullman Company (b. October 22, 1890, Chicago, Cook County, Illinois, USA - d. December 19, 1979, Chicago, Cook County, Illinois, USA)
Leonard married Gertrude Louise Brock (1892-1944) around 1913.
Chicago, Illinois
Edit
In 1920 the family appears in the US Census living at 238 North Manard Avenue in Chicago and in 1930 they were at the same address with the addition of Ira Caro (1905-1975), a nephew, in their home.
Occupation
Edit
In 1930 Leonard was working as an air brake tester at the railroad.
Memories oabout Leonard Jensen
Edit
Kenneth Richard Pletcher (1951- ) says: "He constructed toy boats made of palm leaves as a hobby. He was a sweet guy, he was my mother's favorite."
He died on December 19, 1979 in Chicago, Cook County, Illinois, and was buried in Mount Olive Cemetery.
External links
Edit
Researched and written by Richard Arthur Norton (1958- ) for Findagrave starting on April 11, 2004.
Updated on January 4, 2011 by Richard Arthur Norton (1958- ) with his correct middle name and his correct birthday from the WWI and WWII draft registration. October 1890 is confirmed by the 1900 United States Census for Chicago, Illinois.
Community content is available under
CC-BY-SA
unless otherwise noted.