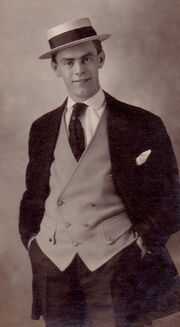 Leif Jensen (1886-1955) was a Chicago stockbroker at Paul H. Davis Brokerage (now Hornblower and Weeks. (b. October 04, 1886, Chicago, Cook County, Illinois, USA - d. Sunday, June 26, 1955, Lake Geneva, Walworth County, Wisconsin, USA)
His name is pronounced "life".
Leif married Agnes Hansen (1890-1965) around 1916.
Chicago, Illinois
Edit
A "Leif Jensen" is in the Chicago City Directory for 1917 working as a "chief clerk" at 608 South Dearborn Avenue and living at 5005 Iowa Avenue. Leif appears in the 1920 United States Census and 1930 United States Census living at 4932 West Austin Avenue in Chicago, Illinois. In the 1930 US Census Leif is the head of household and he is living in the same building as his sister Dolly, and her husband, William J. Gogerty. Around 1931 Leif moved to an apartment building that he owned at 5643 North Spaulding Avenue in Chicago and during the Great Depression he had his siblings move into the rental units.
Sandra Elaine Shanahan (1935- ) says: "He worked for the firm of Paul H. Davis Brokerage in Chicago. He was fishing on Lake Geneva with Goldie Jensen and her husband, Bill Holm, when he died."
Funeral notice
Edit
His funeral notice appeared in the Chicago Daily Tribune on June 28, 1955 and reads as follows:
Leif Jensen, The funeral of Leif Jensen of 429 Linden Avenue, Wilmette, formerly of Highland Park, a broker, will be held at 2 p.m. tomorrow in the chapel at 1567 Maple Avenue, Evanston. He died Sunday at Lake Geneva. Mr. Jensen was for many years associated with Paul H. Davis company, now Hornblower and Weeks, as a partner and customers' man. He leaves a widow, Agnes; a son, Robert, of Highland Park, and two daughters, Mrs. Virginia Banta of Menasha, Wisconsin, and Mrs. Muriel Patterson of Kenosha, Wisconsin.
Researched and written by Richard Arthur Norton (1958- ) for Findagrave starting on October 29, 2003. The biography was migrated to Familypedia on April 1, 2007.
External links
Edit
Ancestors
Edit
Community content is available under
CC-BY-SA
unless otherwise noted.