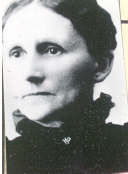 Born: 26 February 1843 Amaya, Denmark
Married: 2 February 1857 Salt Lake, Utah, USA
Died: 1 December 1913 Salt Lake, Utah, USA
Buried: Salt Lake, Utah
At age 11 Laura traveled from Liverpool to New Orleans with her large, well-to-do family. Transshipped to St. Louis, Mssouri and from there to Atcheson, Kansas, on the steamship Clara.
Near here Laura's mother died of cholera. Four days later, Laura's grandmother also died of cholera. Here at Mormon Grove, Lars Lund, Laura's father bought her a beautiful palomino mare which she rode across the plains to Great Salt Lake. She helped herd the livestock. Two weeks after arrival, Laura!s father, inexperienced with working cattle, was gored to death by a bull.
Laura was living with and working as a domestic for Lucy, John's first wife. John had been close friends of the Lunds in Denmark. On February 2, 1857, Laura Lund was married to John Van Cott as his fourth wife. They had six children, four of whom survived. She died on Dec. 1, 1913.
Community content is available under
CC-BY-SA
unless otherwise noted.