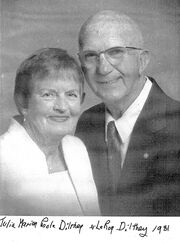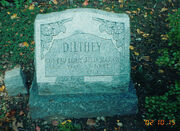 She died on April 9, 2005. She was buried at Powell Cemetery, Hempstead, New York.
Her obituary was published in the Raleigh The News & Observer on Sunday, April 10, 2005:
"Mrs. Julia Marion Poole Dilthey, 95, a resident, for the last seven years, at Sunrise of Raleigh, died peacefully, on Saturday, April 9, 2005. Mrs. Dilthey was born March 10, 1910, in Farmingdale, Long Island, New York. She was the daughter of Alfred W. Poole and Julia Lattin Poole. Mrs. Dilthey graduated from Farmingdale Senior High School in June 1927, where she was a talented athlete, and captained the girls' basketball team. In August 1932, Mrs. Dilthey graduated as a registered nurse from the Wyckoff Heights Hospitals School of Nursing, Brooklyn, New York. She worked as registered nurse for many years. Mrs. Dilthey married Conrad Leroy Dilthey on December 19, 1931. In 1945, the family moved to Milford, Pennsylvania, in the Pocono Mountains. Mrs. Dilthey established and managed the Del-A-View House, a bed and breakfast in a historical home on the Delaware River. While there, Mrs. Dilthey was mainstay of the Milford United Methodist Church, and served as Worthy Grand Matron of the Pennsylvania Order of Eastern Star. After retiring to Florida in 1959, and the death of her husband on March 21, 1993, Mrs. Dilthey moved to Raleigh to be near her son and his family. She is survived by a son, Ronald C. Dilthey and daughter-in-law, Shirley, and her granddaughters, Deborah Dilthey Seipp, and Lauren Dilthey, all of Raleigh. She is also survived by daughter Gail Dilthey Field and son-in-law, Warwick of Austin, Texas; and granddaughter, Cindy. She is also survived by five great-grandchildren. There will be a memorial service in the chapel of Sunrise of Raleigh, at 4801 Edwards Mill Road, on Monday, April 11, 2005, at 1:30 p.m.; burial will be at the family plot in Farmingdale, Long Island, New York."
Community content is available under
CC-BY-SA
unless otherwise noted.